Businesses with Lanka links jittery after attacks
Posted by Editor on February 10, 2013 - 9:28 am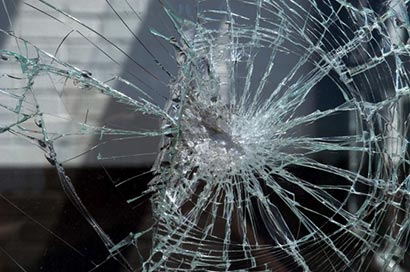 Submitted by Walter Jayawardhana
CHENNAI: Repeated attacks on Sri Lankan establishments in Chennai have created a climate of insecurity for banks, airlines and other businesses which have ties, however tenuous, with the island nation. And in most cases, it is Indian Tamils employed in these establishments bear the brunt of the hostility, which manifests itself in the form of heckling, gheraos and stone-throwing by Tamil nationalist groups.
Following protests against Sri Lankan President Mahinda Rajapaksa's visit to India, security has been strengthened at some key establishments. Others are trying to keep a low profile, hoping to escape the attention of groups, who take to the streets every time the focus shifts to the political situation in Lanka.
The attack on the Bank of Ceylon branch at Egmore on Thursday could well be the first of many more to come. Sources said more protests and attacks could be expected in the city, which may have an adverse impact on trade and tourism. The office of the Sri Lankan Airlines, the largest foreign airline operating in India, is one that is under heavy threat, sources said. In fact, this is the second time that the Bank of Ceylon branch has come under attack. A couple of years back, it was vandalized by a group, which also included some advocates.
Businessmen who have dealings with Sri Lanka say such activities would hurt India more than the island nation. "Considering the fact that India exports almost four times as much as we import from Sri Lanka, Indian businesses would stand to lose more from such attacks as there is a lot of fear and apprehension. Moreover, the attacks could echo in Sri Lanka," warned Somi Hazari, managing director of the Chennai-based Shosova Group, which is into export and import of edible oils and other food items with Sri Lanka.
Several Sri Lankan establishments here employ local Tamils and they too are under risk of being attacked. Apart from large retailers like Lankan firm Damro Furniture, which has several outlets across the country, there are several small businesses run by Lankans in India. "Almost all sausages you see in India come from Sri Lanka. The same goes for paints, as India and Sri Lanka have a free-trade agreement where import of paint manufactured in Sri Lanka is duty free," Hazari said.
Last year too saw a spate of attacks on Sri Lankan devotees visiting the Velankanni shrine and the Buddhist establishment in Egmore. The devotees had to be escorted away from Velankanni, put in a plane and sent back to Sri Lanka, cutting short their tours. (Courtesy Times of India)
Latest Headlines in Sri Lanka