'Capital punishment for drug offences only after public dialogue'
Posted by Editor on June 2, 2015 - 8:24 am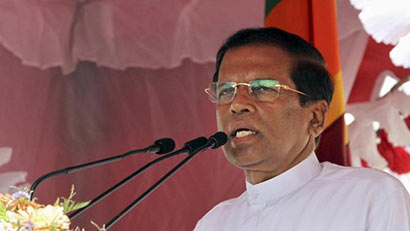 President Maithripala Sirisena yesterday said he would initiate a public dialogue to determine whether capital punishment would be implemented for those who are convicted of peddling, selling and distributing drugs including tablets.
The President said he would take a decision with regard to the implementation of capital punishment based on public opinion.
"There may be objections from different quarters including international human rights' organisations. Some quarters within the country will also say that killing persons is not a solution for the proliferation of drugs in the country," he said.
He was addressing a ceremony to mark World Tobacco Day at the BMICH on the theme 'Stop illicit trade of tobacco products'.
President Sirisena stressed the importance of having rigid rules and regulations to maintain discipline in the country. "We are compelled to commit worthless deeds as well as meritorious deeds when governing a country. We should not delay the process of getting rid of anti-social elements from the country," he said.
President Sirisena added that a number of programmes were launched by the Health Ministry during the past several years to control and prevent tobacco related products in the country.
He said these programmes resulted him being summoned before tobacco company directors.
"The company directors summoned me as the Health Minister and asked as to why I took steps to gazette the pictorial warning of cigarette packet be covered by 80 percent," he said.
The President added that the present situation in the country with regard to the use of tobacco related products, alcohol and drugs has become worse. "The country is facing the challenge of controlling and preventing this menace," he said.
President Sirisena added that the Health Ministry in coordination with the Presidential Secretariat, Non Governmental Organisations, Police, Security Forces and Tobacco Control Authority will implement a wider programme to prevent and control the drug menace in the country. The President also added that addiction to alcohol, tobacco related products and drugs led to an increase in poverty in Sri Lanka.
President Sirisena also said Health Minister Dr. Rajitha Senaratne who is also committed to the control and prevention of this menace in the country has been selected for the World No Tobacco Day Award this year.
He said he received the same award for his dedication towards the control and prevention of tobacco related product in 2013.
(Daily News)
Latest Headlines in Sri Lanka