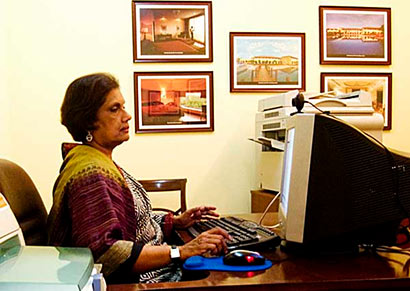 A resolution has been tabled in Parliament by Prime Minister Ranil Wickremesinghe to place the pension entitlement of former President Chandrika Bandaranaike Kumaratunga on par with the entitlement enjoyed by her successor Mahinda Rajapaksa.
The resolution placed on the Order Paper of Parliament yesterday seeks to revise the monthly pension entitlement of former President Mrs. Kumaratunga from Rs. 25,000 to Rs. 97,500 to make it on par with the amount paid to Mr. Rajapaksa.
The resolution has been tabled in terms of the Constitution's Article 36 which gives Parliament the power to introduce a resolution to determine the salary, allowances and pension entitlement of the holders of the office of President.A resolution moved on March 4, 1986 states that the pension entitlement of the holder of the office of President shall be a sum equivalent to the salary the President was entitled to receive immediately before he or she ceased to hold such office.
Accordingly, from 1988 onwards, the pensions paid to former Presidents namely J. R. Jayewardene, D. B. Wijetunga, Hema Premadasa, who is the widow of former President R. Premadasa, and to Ms. Kumaratunga were Rs. 25,000 a month — equivalent to the salary of the President. However, Parliament by resolution revised the salary of the then President Mahinda Rajapaksa from Rs. 25,000 to Rs. 97, 500 a month in July 2006.
Remunerations or allowances paid to ministers and the members of Parliament too were revised at the same time. Coinciding with the revision of remunerations or allowances paid to the ministers and the Members of Parliament, pensions of former ministers and members of parliament too were revised. However, only the pension paid to former President Kumaratunga has not been revised in keeping with the salary revision of the President.
Hence in considering the pension entitlement of Rs. 97,500 paid to former President Rajapaksa as a result of this salary revision, an anomaly has arisen in respect of the pension entitlement of former President Kumaratunga who is receiving a monthly pension of Rs. 25,000 at present.
Hence the resolution has been introduced to correct this anomaly and states that it is just and reasonable to rectify this anomaly.
Along with this, the monthly pension paid to Ms. Premadasa, too, will be increased and will be equivalent to two-thirds of Rs. 97,500. The revised pension entitlements will be paid from January next year.
(Source: The Sunday Times)