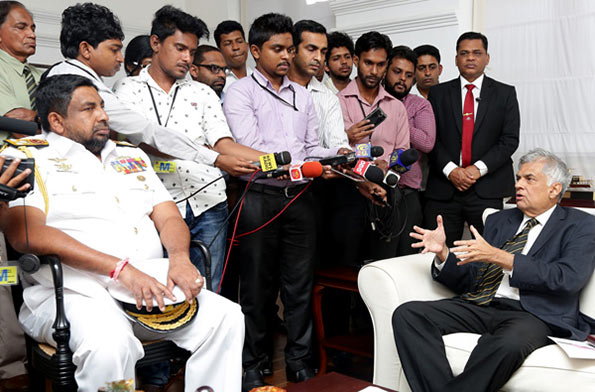 The China Merchant Company will absorb all workers of the Hambantota Port after the take over on January 7 next year, Prime Minister Ranil Wickremesinghe said today.
He told media that the Chinese company will absorb the workers under the existing conditions but would sign a fresh agreement with the workers later.
Referring to the recent drama in the Port, the Prime Minister said two companies had informed him that they needed to get their ships released from the port.
"Two companies informed me that their ships were in danger and wanted them out of the port. We have to safeguard the few ships that come to the Hambantota Port. Then we need to develop it into a profit making venture. Therefore I informed President Maithripala Sirisena and the Defence Ministry Secretary about it and we decided to send the Navy Commander to release the ships," he said. "There are international agreements on safeguarding the ships that come into ports. The International Maritime Organization says international ships need facilities in the ports and security should be strengthened and as such we informed the Navy Commander to take steps to provide security to the ships."
The Prime Minister said the K-line Shipping had asked for US$ 4 million as damages. "Who is going to pay these damages," he asked and said other shipping lines might also claim damages.
The Prime Minister said the Government would set up a permanent navy camp near the Hambantota Port.
"It is essential especially after the construction of oil bunkering, refinery and ship building facilities are set up in the area," he said and added that a journalist who was allegedly assaulted had complained to the Tangalle Police whereas he should have complained to the Hambantota Police because the Port comes under their purview.
The Prime Minister said investigations would be conducted to ascertain whether this journalist had entered the high security zone without permission.
(Source: Daily Mirror – By Yohan Perera)