Conspiracies won't affect President – External Affairs Minister
Posted by Editor on June 22, 2011 - 10:25 am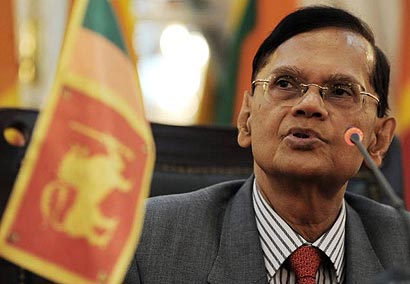 President Mahinda Rajapaksa would not be stifled by conspiracies to prevent him from travelling and would remain dedicated to Sri Lanka's progress, External Affairs Minister Prof. G.L. Peiris said.
Addressing a press briefing at the External Affairs Ministry, Prof Peiris said that all politically motivated campaigns against Sri Lanka will fail as they are based on wrong information and not based on objective assessments.
He said a vicious campaign has been launched to prevent President Mahinda Rajapaksa from travelling to other countries and to silence his voice.
He said that the infamous Channel 4 fiasco is also part of this vicious campaign.
The latest attempt of this campaign is to issue summons on President Rajapaksa.
'He cannot be served summons in courts under International Law, he said.
The External Affairs Minister added President Mahinda Rajapaksa is enjoying the full benefits of sovereign immunity as the Head of State, twice elected by the people of Sri Lanka and he cannot be summoned by any court under International Law.
'This legislation was amply enforced in Sri Lanka in 2000 and the President has constitutional immunity in Sri Lanka too, he added.
Minister Prof Peiris said that President Rajapaksa will travel to any country of his choice.
He said that the Channel 4 fiasco is a completely politically motivated campaign to embarrass the country at a crucial time. The minister recollected how the first Channel 4 video clip surfaced when the European Commission was about to meet at Brussels over the granting of GSP+ to Sri Lanka.
He said the second video clip was on Channel 4 TV, the day prior to his meeting with British Foreign Secretary Willam Hague and the third clip was telecast when the President was about to leave for London for a lecture at the Oxford Union.
The minister added that the Lessons Learnt and Reconciliation Commission (LLRC) has publicly said that they will launch a full inquiry into this video clip.
Minister Peiris said the Commission has invited international organizations, such as Human Rights Watch and Amnesty International, to provide information about these videos to facilitate the Commission's inquiry. "No organization has accepted the invitation extended by the Commission, the minister said.
"These organizations are pointing fingers at the government and the Security Forces without making representations to the independent body set up in Sri Lanka probing such matters."
"Their reluctance amply demonstrates that these campaigns are carried out by certain elements with vested interests," the minister said.
The minister said that those who failed to achieve their objective through terrorism are trying to threaten Sri Lanka's economy by launching malicious campaigns such as Channel 4.
He added that the Defence Ministry will launch a full scale investigation into this Channel 4 video clip in addition to the inquiry which is to be made by the LLRC.
Referring to the controversial Darusman Report, the minister stressed that it is totally based on misinformation and contains factual errors. Secretary to the President Lalith Weeratunga, Central Bank Governor Nivard Cabraal and Director General President's Media Division Bandula Jayasekera were present.
Courtesy: Daily News
Latest Headlines in Sri Lanka