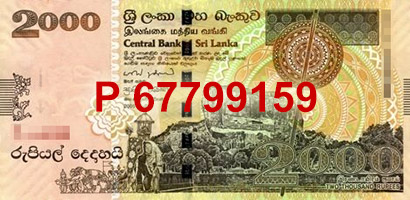 Criminal Investigation Department of the Sri Lanka Police today raided a counterfeit money printing press in Malabe and seized money worth Rs. 7 million in fake notes. All the fake currency was of the Rs. 2000 denomination police said.
All the fake Rs. 2000 notes were printed with the same serial number P 67799159.
The CID also cautioned the public to be cautious when exchanging Rs.2000 notes with the same serial number as they could be counterfeit money. If any person has received a Rs. 2000 note with the above serial number they are advised to go to the nearest Police station to aid the investigations.
(Courtesy: Ada Derana)