Denied permission to talk of SF, Irate Ranil removes Commonwealth tie
Posted by Editor on November 30, 2011 - 7:11 am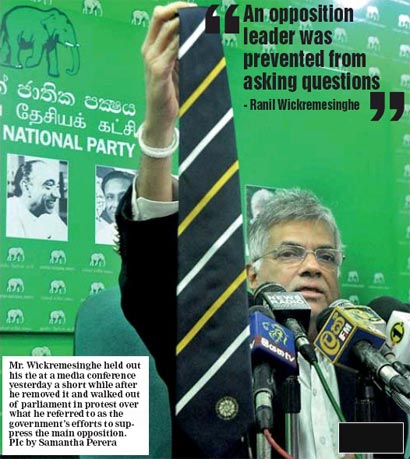 Speaker Chamal Rajapaksa yesterday prevented Opposition Leader Ranil Wickremesinghe from making a special statement in parliament on behalf of defeated presidential candidate, General Sarath Fonseka.
The Speaker intervened in the wake of ruling party members strongly objecting to the UNP leader's move, promising he would decide whether that could be allowed to be made in Parliament and inform the House of his ruling today (30).
When Opposition Leader Wickremesinghe rose to make the statement under the Standing Orders 23/2, Leader of the House Minister Nimal Siripala De Silva said that the government was against allowing such a statement to be made. "We received a copy of this statement. The content of this statement is sub judice. Several sentences are sub judice. We cannot debate an issue which is before a court of law. Therefore, this statement cannot be allowed to be made. We urge the Speaker to give a ruling against making this statement."
Wickremesinghe: Only four sentences of this statement are challenged.
I can leave them out if I am allowed to state this to the House. The statement should not be stopped just because of four sentences.
Leader of the House: Both the beginning and end of the statement are interconnected. Not only the sentences from the beginning and the end but also the content of the statement are in violation of the sub judice principle. You can bring in another statement.
Chief Government Whip Water Supply and Drainage Minister Dinesh Gunawardena: "By expressing his willingness to amend the statement, the leader of opposition has admitted that the statement is in violation of sub judice principle."
Kurunegala District MP Dayasiri Jayasekera: "This is an important issue. Please allow this statement to be presented."
Wickremesinghe: "What we demand to know is the government's position on the international conventions. If this is a big deal for you, I can omit the name of Sarath Fonseka."
Leader of the House: "You can make any statement, but we are duty bound to respond to them. You cannot omit names from the statement and present it. We are not ready to respond to statements that are sub judice. Expecting us to do so is unjust."
Speaker Rajapaksa: "I would like to get the expert opinion of Prof G. L. Peiris in this regard."
External Affairs Minister Prof G. L. Peiris: "One sentence is connected to the other. Removal of four sentences does not answer the dispute highlighted. The statement should be fully and clearly amended."
MP Jayasekera: "Please allow this considering it a special occasion."
Fisheries Minister Rajitha Senaratne: "The argument first raised by the Opposition Leader was that four sentences are not connected to each other. Now he offers to remove names and make the statement.
Wickremesinghe: "As the Opposition Leader of this House, I am questioning whether this government is violating international human rights conventions to which it is a signatory. I am wearing the tie of Commonwealth Parliamentary Union of which you are the President. (Shows his tie to the House)
Chief Government Whip: "Opposition Leader first said something else now says something contradictory."
Wickremsinghe: "I have a right to make this statement."
Chief Government Whip: "While we are planning to hold Commonwealth meeting in this country, our Opposition leader tries to make treacherous statements against the country."
Housing Minister Wimal Weerawansa: "I like to know apart from the Commonwealth tie what else he is wearing from other organisations including the Pentagon."
Wickremesinghe: "We all are members of the CPU. This minister wants us to resign from it."
Speaker: "I have paid attention to what you all have said. I cannot make my ruling immediately. I will let the House know my position tomorrow (30)."
At this point Opposition Leader removed his tie and showed it to the House while Government MPs booed him.
Speaker: "All the MPs standing must sit down. If anybody attempts to disturb the House he would be removed from the Chamber."
Courtesy: The Island / Pix by Daily Mirror
Latest Headlines in Sri Lanka