Dependent War Hero at 'Abimansala' Ties Nuptial Knots In front of Commander
Posted by Editor on March 26, 2012 - 6:22 am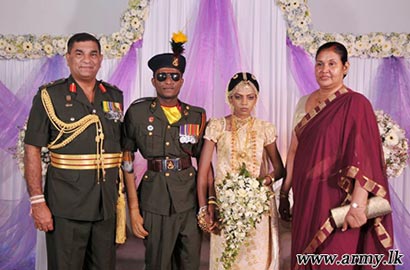 The saying, 'Love Conquers All' (Omnia Vincit Amor), is a universal factor that can transgress all the borders, all ethnicities, physical or any other disabilities or in essence, anything, to state the least.
Human passions are so elusive and 'it is the love that makes the world go round.' This makes no difference to Lance Corporal Charith Kularuwan Kulathilleke of 5 Vijayabahu Infantry Regiment (VIR) of the Army too who has been living at Anuradhapura 'Abimansala', wellness resort for dependent War Heroes.
The 23-year old soldier, Kulathilleke, highly taken up by selfless sacrifices of the troops in defence of the country, joined the Army on 25th May 2007 with the blessings of his parents and received his military training from Puttalam-based Vijayabahu Infantry Training School.
With the escalation of terrorism and fast swelling battlefield requirements, he was deployed at the Kilaly Forward Defence Line for duties, together with his fellow-soldiers. Fate however did not serve him the way he wanted. While he was serving there, Kulathilleke fell victim to an LTTE booby trap, close to the forward defence line and resulted in the loss of his right forearm and full vision in both eyes.
Yet, determined Kulathilleke after recovery too wanted to serve the organization continuously and authorities accordingly confined him to Ragama Ranaviru Sevana for both rehabilitation and continued service. Nevertheless, Kulathilleke with some of his friends with similar disability as per medical advice, used to consult optometrists/eye surgeons at Colombo National Eye Hospital on a regular basis.
Life continues to remain unpredictable. The girl by the name, Ms S.G Suvini Sewwandi (19), who accidentally saw this blind War Hero on the public bus, bound for the Eye Hospital for treatment, turned curious to learn more about him. Concern, blended with kindness, warmth and magnanimity, grew itself to be life-binding commitment. She gradually played Cupid. As a result, she started visiting Ragama Ranaviru Sevana where he was resident at that stage often and began spending more time with his dependent fiancé, Lance Corporal Kulathilleke, though he remains completely blind.
Against all odds, she was firmly resolved to make Kulathilleke's life more comfortable and prosperous by being the better half to him during the rest of his life. Their romance no longer remained a secret, though the protagonist was moved to the state of the art Anuradhapura 'Abimansala' for rehabilitation, rest and recreation.
After the maiden invitation was presented to the Commander and the President, Seva Vanitha Army Branch, arrangements got underway. The red-letter day (March 25) finally dawned. The serene 'Abimansala' wore the garbs of matrimony as wedding bells began ringing when all the inmates, attired in their Sunday best, waited and lined up, counting minutes, if not seconds, until their fellow-inmate, Kulathilleke leaves his signature on the dotted line in matrimonial knot, together with his bride, Suvini Sewwandi, an exceptional feminine character of courage and magnanimity in contemporary times. It was a spectacle unheard and not witnessed by many.
The first-ever wedding ceremony at 'Abimansala' on Sunday (25) was further dignified by the presence of the 'Abimansala's very founding father, Lieutenant General Jagath Jayasuriya, Commander of the Army, together with Mrs Manjulika Jayasuriya, President, Seva Vanitha Army Branch whose fund-raising campaign, 'Brave Hearts', made construction of the 'Abimansala', a roaring success. Both of them warmly greeted the wedded couple, gave away unforgettable gestures of gifts and promised construction of a fully-equipped new house for the couple, close to the bridegroom's hometown, Mihintale, for which funds have already been allocated, following the patronage given by a leading company.   A host of relatives, friends and well-wishers from both sides eagerly watched colourful wedding proceedings that closely followed ancient rites and rituals, including the 'Poruwa' ceremony.
On the sidelines of the main ceremony, the architect of the unique project, Lieutenant General Jagath Jayasuriya, together with Mrs Jayasuriya went round the entire premises and inquired into various functional aspects of the project and instructed accordingly. He also did not forget to speak to almost all 'Abimansala' inmates, resident there and a cross section of the administrative staff before his exit from the ceremony.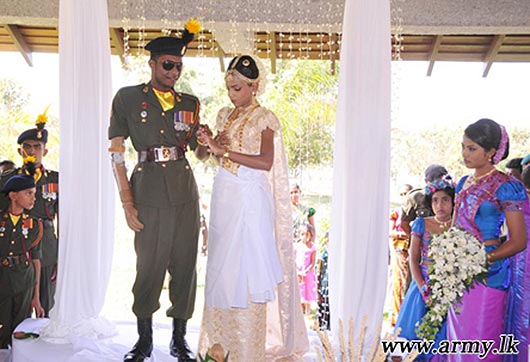 Latest Headlines in Sri Lanka