Exports to China have increased threefold, says Lankan envoy
Posted by Editor on March 7, 2011 - 12:52 pm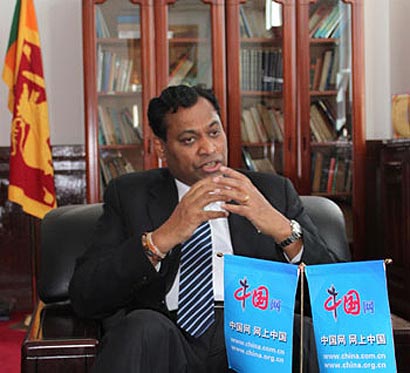 Sri Lankan Ambassador to China Karunatilaka Amunugama (Photo: China.org.cn)
Sri Lanka was one of the first countries to recognize the newly-founded People's Republic of China, and establish an embassy in Beijing, affirmed the Sri Lankan Ambassador to China, Karunatilaka Amunugama. He stated that the two countries had very strong political ties at that time.
"When talking about my feeling of China-Sri Lanka relations, we feel that China is one of our close Asian neighbors and Chinese people are our brothers and sisters," the ambassador said during an interview with Chinese media.
Different countries have different cultures, economic and political systems and it is up to the people to decide which system is best for their country, the ambassador said. "We recognize China, because it is people's choice," he added.
During the past 54 years, political parties and leaders from the two countries have maintained very good relations, the ambassador said. Sri Lankan President Mahinda Rajapaksa is focusing his attention on building relations with neighboring countries and sees a strong relationship with China as fundamental.
The ambassador recalled that President Mahinda Rajapaksa has visited China three times since 2007. In 2010 he attended the closing ceremony of the World Expo in Shanghai and also visited the commercial powerhouse of Guangzhou. He held numerous discussions with Chinese political and business leaders during his 4-day visit.
"We see remarkable progress during the last four years. We are Asian, so we should recognize each other and help each other," he said in an exclusive interview with China.org.cn.
"We have doubled our trade and now it's close to US$2 billion. Our exports to China have increased three times. The investment to China becomes the number one in Sri Lanka," ambassador said.
Chinese products are good and their prices are very competitive. But so far, Sri Lanka only exports a limited range of products to China – mainly tea, coconut, fiber, jewelry, and some minerals, he said.
The Chinese government and Chinese businesses have been helping Sri Lanka promote its products, the ambassador said. Following publicity carried out by the Sri Lankan embassy, large numbers of Sri Lankan businesses now participate in trade fairs in China.
"In 2007, few Sri Lankan business people came to visit China, but now you can see them at anytime all over China in [northeast China's] Heilongjiang, [southwest] Yunnan, [south] Guangdong and [southwest] Sichuan provinces," the ambassador said.
"We see an increase of our export to China," he added.
The ambassador said there are a lot of opportunities in Sri Lanka for Chinese investors, particularly in infrastructural development and the food sector.
Courtesy: Ada Derana
Latest Headlines in Sri Lanka