Financial inclusion- key constraint to economic growth: IFC
Posted by Editor on March 21, 2018 - 10:24 am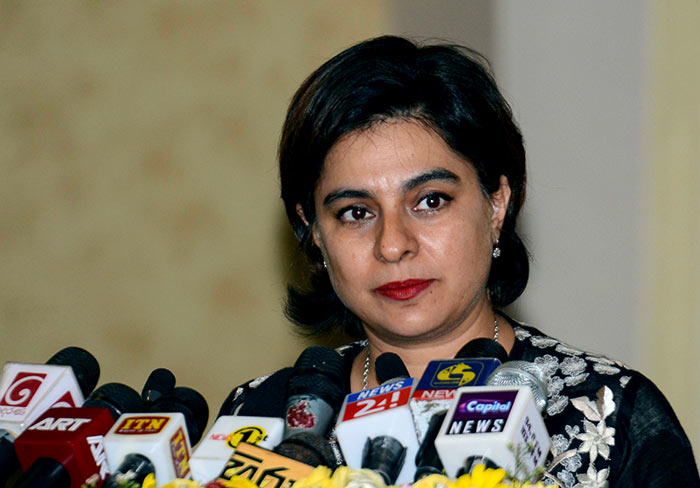 Even though Sri Lanka presents a rosy picture in terms of the wide range of financial service providers in the country, high levels of physical access to branches and a high number of accounts, the level of financial inclusion is still listed as a key constraint for growth across many sectors, International Finance Corporation (IFC) Country Manager for Sri Lanka and the Maldives, Amena Arif said yesterday.
Addressing the launch of the Development Process for Sri Lanka's National Financial Inclusion Strategy in Colombo, she said only 17% of Sri Lankan women have been successful in borrowing from the formal sector; over 80% borrowers in the informal microfinance sector are women.
According to the definition by Sri Lanka's Central Bank, financial inclusion refers to access to an appropriate range of financial services at a reasonable cost, provided by a range of responsible and sustainable financial institutions.
It is correlated with economic growth and development and is also identified as an important tool in eradicating poverty by inducting the financially-excluded lower-income earning segments of society into the formal financial system.
The IFC Country Manager also said, "In Sri Lanka, we find the question is less about the unbanked and more about the under-banked – whether people use their accounts and how they do so."
According to IFC statistics, despite Sri Lanka's high bank account penetration rate, the number of individuals who reported no deposits and no withdrawals in the past year was 31%.
Sri Lanka's Insurance sector is also significantly underdeveloped, which leaves enterprises and individuals vulnerable.
"Less than 15% of SMEs and 1% of micro enterprises used any form of insurance. There's also a minimal focus on women, Insurance payouts received by women in Sri Lanka dropped by 34% during the period of 2006-2009," she said.
Financial inclusion is when households and businesses have access to, and can effectively use a range of appropriate financial services. She said that such services must be provided responsibly and suitably, in a well-regulated environment.
"Yet, despite the importance of financial inclusion being so evident, we find that about 2.5 billion adults in the developing world don't have access to financial services such as payments, credit and savings accounts. 625 million of them live in South Asia alone," she elaborated.
"For small businesses, the story is pretty much the same. It's evident that they are the engine of growth across emerging economies – and yet there's about 200 million micro, small and medium enterprises, that can't access the credit they need to grow."
Speaking at the event, Central Bank Governor, Dr  Indrajit Coomaraswamy said the task of enhancing financial inclusion was a challenging task. "While considerable advance has been made, there exists several bottlenecks in achieving greater financial inclusion. We must strive to provide more accessible, effective, efficient and affordable financial services which are responsive to the needs of the population", he said.
According to the Central Bank, Sri Lanka currently has a wide range of financial service providers, offering high levels of physical access to branches. Currently, the Bank branch density of Sri Lanka is at 18.6 branches per 100,000 adults, while Bank branches are spread throughout the country. Moreover, 83% of adults have accounts at a financial institution.
"Another encouraging fact is that same percentage – that is 83 per cent – of adult women also have an account at a formal financial institution, unlike in many comparative countries", the Governor remarked.
(Source: Ceylon Today – By Ishara Gamage)
Latest Headlines in Sri Lanka