Fine for overtaking from left a mistake of Minister: Gemunu
Posted by Editor on November 25, 2016 - 7:36 am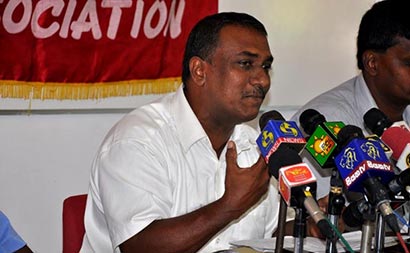 The decision to impose a steep fine of Rs.25,000 for overtaking a vehicle from the left side was taken by the Transport Minister mistakenly during the meeting at the Finance Ministry, Lanka Private Bus Owners' Association President Gemunu Wijeratne said.
Addressing the media yesterday Mr. Wijeratne said that at present no such fine existed in the charge sheet used by the traffic police and there were several issues in regards to overtaking from the left side. "There is no way to implement such a law. Therefore people should not take this issue seriously," he said.
"Only small vehicles such as motor cycles and three-wheelers overtake on the left side and therefore this law should not be relevant to buses. They don't need to overtake on the left side, because buses always use the left side of the road," he said. "I have explained all this to the minister and even the police. Accidents happen even when overtaking on the right side. The fine for improper overtaking on the right side was Rs.500. Because of that we agreed with the minister's decision, as there is no need for buses to overtake on the left side. This will reduce road accidents," he said.
"Personally, I like this law because by imposing this law it will discourage motorcyclists and other motorists from contravening traffic laws," he said.
(Source: Daily Mirror – By Chaturanga Pradeep)
Latest Headlines in Sri Lanka