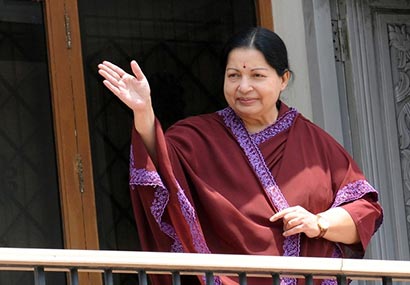 Chief Minister J Jayalalithaa on Sunday announced that the second round of talks between fishermen's organisations of India and Sri Lanka will be held in Colombo on March 13. She has asked the Ministry of External Affairs (MEA) to ensure the release of 121 Tamil Nadu fishermen before the talks.
Jayalalithaa also announced that the 13 fishermen's representatives, who took part in the talks held in Chennai on January 27, would participate in the talks and Tamil Nadu government officials would take part as observers.
The CM communicated the list of attendees from Tamil Nadu to the Joint Secretary for External Affairs in a letter on Sunday.
She also urged the MEA to stipulate the release of all Tamil Nadu fishermen and their boats from Sri Lankan custody before the next round of talks. In all, she sought the release of 121 fishermen and their boats, detained by the Lankan Navy after the January talks.
The CM also suggested some points of agenda for the Colombo talks, formulated based on the Chennai talks. Among these were the affirmation of the rights of Tamil Nadu fishermen to ply their trade in their traditional waters, complete cessation of attacks, arrests and incarceration of fishermen by the Lankan Navy, increased information exchange between the two sides on weather and environmental issues and a roadmap for increased co-operation with long-term considerations in mind.
Jayalalithaa also stipulated the Tamil Nadu government's continuation of its case for the retrieval of Katchatheevu and said the fishermen-level talks should continue to be held without prejudice regarding this. She had earlier taken steps to hold the first round of fishermen-level talks in January, writing to Prime Minister Manmohan Singh on the matter in September 2013. (ENS)