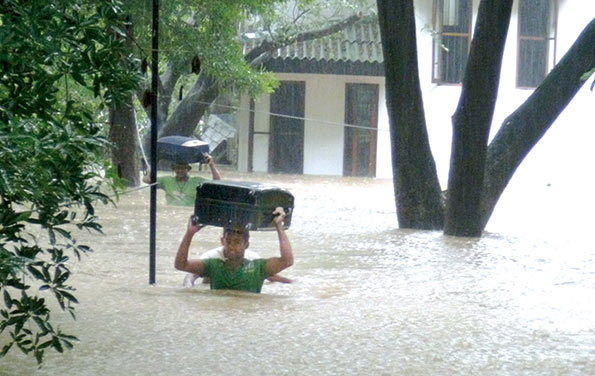 Around 19,916 persons belonging to 6,310 families in Jaffna, Mullaitivu, Killinochchi, Trincomalee, Puttalam and Gampaha districts have been affected by floods while around 2,600 persons have been displaced, Disaster Management Centre sources said
According to the sources 2,859 persons belonging to 841 families in Kopay,
Velanai, Jaffna, Nallur, Sandilpay, Uduvil, Tellipalai, Chavakachcheri, Point Pedro GS divisions in Jaffna, 1,772 persons belonging to 575 families in Tirukkovil, Manthan east, Maimpattu and Oddusudan GS divisions in Mullaitivu, 2,694 persons belonging to 811 families in Kandawalai, Pachchilaipallai, Poonary and Karachchi DS divisions in Killiochchi have been affected by floods.
One person died and another is reported missing due to floods in Karachchi, Killinochchi.
Around 559 displaced persons belonging to 196 families are currently sheltered at the Oddaruththakulam Common Hall, Kallapadu South Pre School and Thirumurukandi Hindu Vidyala.
Around 27 houses in Mullaitivu and Kilinochchi districts have been completely damaged while 295 houses have been partially damaged.
Meanwhile, 3,050 persons in the Wattala GS division and 2,201 persons belonging to 487 families in Kotahena GS division have been affected by floods while 4,661 persons belonging to 1,554 families in Mundalam, Madampe, Mahawewa, Arachchikattuwa and Chilaw GS divisions in the Puttalam district have also been affected by the floods.Around 2,073 displaced persons belonging to 757 families have been provided shelter.Disaster Management Centre media spokesman Pradeep Kodippili said that action has been taken to provide relief measures to all affected.
The Meteorology Department duty forecaster said the highest rainfall was reported from Jaffna and at 166.6 mm.
"The low pressure area in the Bay of Bengal is still continuing and is now located to the northeast of Sri Lanka. Under the influence of the system, showery weather and cloudy skies over the country is expected to continue today.
"The possibility of strong winds over the country and surrounding sea area is still high," he said.
Showers or thundershowers will be experienced over most part of the island, particularly in the northern half of the island. Very heavy falls (about 150 mm) are also likely at some places, the spokesman said.
There may be temporary localised strong winds during thundershowers.
The public is requested to take adequate precautions to minimise damages caused by lightning activity.
(Source: Daily News – by Ishara Mudugamuwa)