Fuel wastage: no extra charge on commuters, says NTC
Posted by Editor on June 3, 2016 - 9:53 am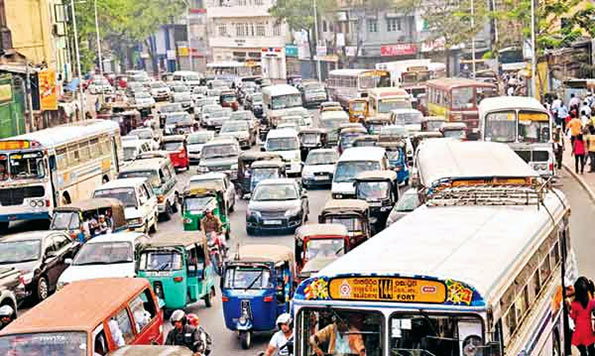 The National Transport Commission (NTC) yesterday said it will not allow any extra charge or charges to be imposed on bus commuters as charges of fuel wastage during delays in traffic jams.
NTC Chairman M.A.P. Hemachandra made these comments on being asked to declare if the commission is set to allow  what will be an extra charge on private bus commuters for fuel wastage on roads due to traffic congestion.
The scheme was first forwarded by Lanka Private Bus Owners' Association (LPBOA) Chairman Gemunu Wijeratna on Wednesday at a press conference, where he said they will charge an extra percentage from private bus passengers for the cost of fuel wastage during traffic congestion. He said they will charge an extra fee from passengers from July 1, if the government did not take measures to reduce the number of private vehicles on roads.
Hemachandra said: "Gemunu Wijeratna's bus association cannot impose any charge from the commuters. His organisation is far removed from being a tax incrementing body or a bus fare hike controlling body to decide on such matters. "Gemunu Wijeratna's declaration that they [LPBOA] will impose an extra charge on bus commuters could cause a public outrage.
"Besides, where on earth have people using public transport been held responsible to pay for traffic congestion on roads despite it being a growing problem in many metropolitan areas in the world?
"Leave aside imposing wait-time fuel cost charges, even normal bus fares cannot be revised and implemented without following proper procedure and ministerial approval.
"Bus associations cannot increase fares or impose charges as such as intended by Gemunu Wijeratna."
Hemachandra said it is the NTC that does this work.
"Even to revise bus fares we have to go by 12 denominations and ministerial approval," he said.
"To do what LPBOA Chairman Gemunu is trying to do, so to speak, requires setting up of a few ministerial committees and may as well need Cabinet approval," he said. "I wonder if Gemunu thought that traffic congestion are created by passengers on board their buses, or is he campaigning to discourage the public from using their transport services?" Hemachandra asked.
On being pointed out that LPBOA Chairman Gemunu Wijeratna had said that unlike other civil organisations which can only bark but not bite, they can both bark and bite, NTC Chairman Hemachandra said: "I think he can bark."
"On the contrary we cannot let the public suffer at the cost of traffic jams. They too are victims of traffic jams," he added.
(Daily News – By Chamikara WEERASINGHE)
Latest Headlines in Sri Lanka