Government brought in 19A to block Rajapaksas We also can change 19A – Basil
Posted by Editor on February 18, 2018 - 6:53 am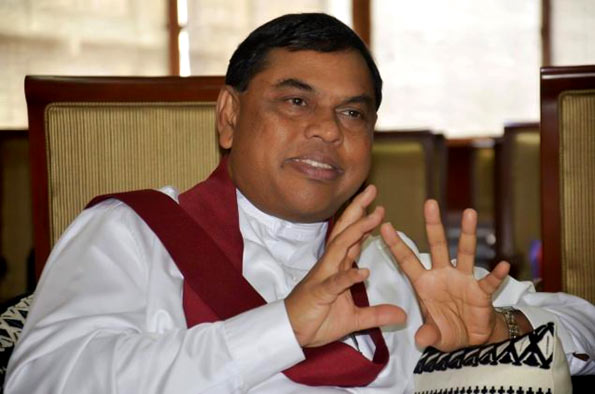 Chief organizer of the Sri Lanka Podujana Peramuna (SLPP), Basil Rajapaksa said that the 19A that was brought in by the incumbent Government should be 're-amended' as it was enacted to prevent the Rajapaksas from returning to power.
Pointing out that the 19A has removed the dual citizenship of politicians he hinted that it was done to prevent him and his brother, former Defence Secretary Gotabaya Rajapaksa, returning to politics.
He also said the 19A victimized 'innocent' MP Geeta Kumarasinghe, by removing her as an MP.
"Myself, my wife and daughter are all US citizens, but we were born in Sri Lanka. Unfortunately, this Government has stopped the dual citizenships of their opponents.
"Sirima Bandaranaike was stripped of her civic rights by the then President JRJ, when he could not fight her. Similarly, the Rajapaksas are targeted. The political witch-hunt must be stopped. For that, the 19A must be amended. The original 18 A should be implemented, so that everyone has the right to have dual citizenships.
This 19A was purposely brought because of the Rajapaksas. The Act was to get me and Gotabaya and the innocent MP Geeta Kumarasinghe out of politics," he noted. He also hinted that Mahinda Rajapaksa would be the leader of the country, but when asked whether his brother would be the President (the Constitution, however, would not allow it) or the Premier of the country, he noted that too was amended under the 19A.
"There was no law like that before 2015, where the leadership period was curtailed. We will see how it goes. Law can always be changed. I cannot predict that, but if the Government can change the law, we also can change the law. But definitely the people want a change and want Mahinda Rajapaksa to lead the country once again, at least for the next five to six years.
When asked about the reconciliation process and the four pillars of work, on which the government is working along with the international community and local think tanks, he said he does not know and he is hearing about it for the first time.
On the constitutional reforms, the politician, who was accused of corruption and is facing prosecution, further noted that he is against anything that would disturb the prevailing peace in the country.
"We should not bring reforms that would build suspicion among people. If there are doubts about anything in the reforms, then there will be issues."
He further stressed that instead devolving power to the provinces and provincial councils they would share power with the lowest level like the Grama Rajyas of Village Councils. "We will not give it to the PCs and divide the country."
(Source: Ceylon Today – By Sulochana Ramiah Mohan)
Latest Headlines in Sri Lanka