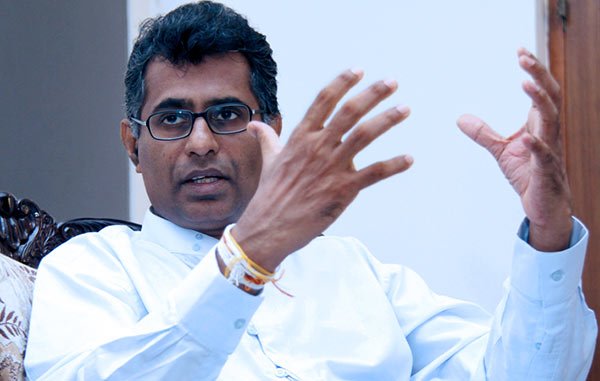 While highlighting the need to introduce political reforms, Jathika Hela Urumaya (JHU) General Secreatry and Minister, Patali Champika Ranawaka said yesterday the government should be humble enough to accept the Sri Lanka Podujana Peramuna (SLPP) as the main opposition in Parliament.
He said in a statement that it was clear from the votes obtained by the Sri Lanka Podujana Peramuna (SLPP), the Janatha Vimukthi Peramuna (JVP), the Tamil National Alliance (TNA), the United National Front (UNF) and the Sri Lanka Freedom Party (SLFP), a majority of the people were against the current system of governance.
"The government did not adopt a proper method of administration. The government should respond to the people while carrying out its policies. The Opposition has been able to create insecurity among people of all the communities," said.
The minister said the State action had led to anarchy by acting in a lenient manner foregoing stability for the sake of "Good Governance" and added that this situation was worsening in the wake of the Local Government elections.
"It is time to introduce major political reforms which are meaningful to the people without restricting them to fertilizer subsidiary, Samurdhi payments, constructing bridges or culverts and changing ministerial portfolios," he said.
The minister said even though some claim that the SLPP was a new party, it was the same old SLFP and added that the result showed that they had obtained the same number of votes obtained by former president Mahinda Rajapaksa at the 2015 presidential election and the general election.
He said the only new political force was the alliance contesting the election under the betel leaf and the hand symbol under the leadership of President Maithripala Sirisena.
The minister said the Rajapaksa faction was conspiring to fish in troubled waters by attempting to cause a power struggle between Mr. Sirisena's backers and the UNP but the President's faction and the Prime Minister were wise enough not to fall prey to such conspiracies.
"Now what we need is a national unity with the UNP and Mr. Sirisena's new force by understanding the peoples' reaction. The JHU will not shatter the hopes of the people who voted for us," he said.
(Source: Daily Mirror – By Ajith Siriwardana)