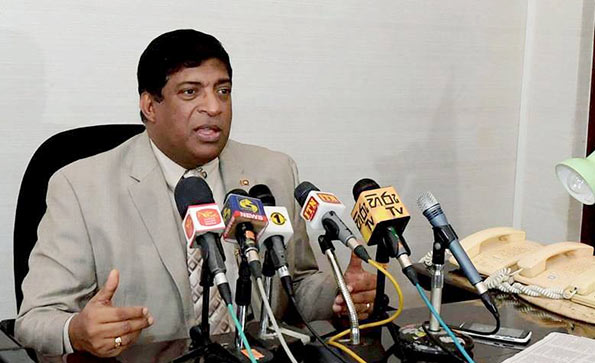 The Government was well within borrowing limits in 2016 and about 22% of the approved borrowings were not utilized, Finance Minister Ravi Karunanayake said yesterday.
Addressing the media, Karunanayake said the Government's financial performances had improved during the last two years as the utilization of borrowings had improved while the borrowing limit had decreased.
According to the data, approved borrowing limit for 2015 was Rs 1,780 billion and it had declined to Rs 1,699 Billion in 2016 and it is expected to go down further to Rs 1,579 billion in 2017.
Data further indicates that in 2014, the Government's utilization of borrowings was very high as the approved borrowings limit was Rs 1,478 and usage was Rs 1425, indicating that only 15%, of the borrowings approved, was not utilized. In 2015, only 1.75% of the approved borrowings were not utilized.
Although the borrowing limits as well as the performances regarding the utilization of borrowings had improved, the debt to GDP ratio had increased to 79.3%.
The Central Bank Annual Report 2016 noted that the Government debt-to-GDP ratio was reported as 79.3 per cent in 2016, it still remains very high when compared to other frontier markets and peer countries in the region. Low revenue has led the government to rely heavily on debt creating financing instruments, which contribute to the accumulation of the government debt stock. Higher debt stock augments debt service payments, further contracting the fiscal space available for other mandatory/ productive activities.
Moreover, the larger deficits resulting from heavy debt service expenditure eventually paves the way for the country to borrow more, thus creating conditions that expose it towards a 'debt trap' or the 'vicious cycle of debt'.
(Source: Ceylon Today – By Umesh Moramudali)