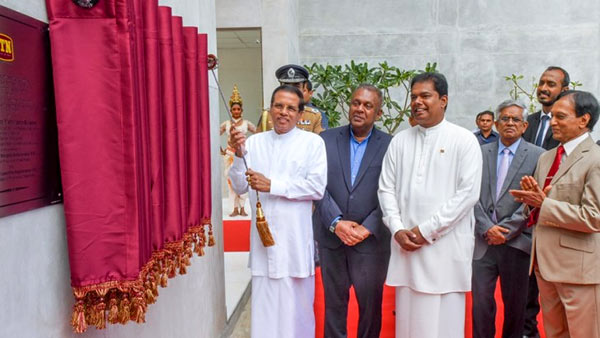 President Maithripala Sirisena says the Government media institutions should take the lead in creating an ethical as well as qualitative media culture in the country.
He made these remarks participating in a ceremony to open the new administrative building complex of the Independent Television Network (ITN), yesterday (14). This event was organized in parallel to the ITN's 38th Anniversary.
The President recalled that when he participated at the Presidential Election as the common candidate, the state media were used in more abusive and an unethical manner in its history to attack him. No other Presidential candidate or any national politician faced such allegations that were leveled against him at that time, he said.
Instead of achieving maturity gradually over the years, the state media institutions fell into a most disgraceful level two and a half years ago, the President said. He emphasized that such kind of immoral media usage should not happen again in the future of this country.
President Sirisena said that at that time, all kinds of allegations were leveled against him because he was posed a great threat to the persons calling themselves giants, and he was came from a poor family and said that he became the President of this country not to crown any member of his family but to fulfill responsibilities towards the people while facing challenges.
The President pointed out that a superior political culture could be built only through a better media usage and said that all the media institution heads, their management, and the journalists should commit themselves to fulfill their duties and responsibilities in a free media environment.
The President after opening the newly built five-storey administrative building complex signed the Guest Book.
The President also opened a museum, which includes artifacts of the ITN, the first colour television of South Asia.
The President made an inspection tour of the Outside Broadcast Vehicle of the institution and the new building complex.
The Maha Sangha including Most Ven. Ittapana Dhammalankara Maha Nayake Thera, other religious leaders, Ministers Mangala Samaraweera, Gayantha Karunathilaka, Secretary for the Ministry of Finance, R.H.S. Samarathunga, the former ITN Chairman Rosmand Senaratne, dignitaries,  the Acting ITN Chairman, Saman Athaudahetti and the staff participated on this occasion.
(President's Media)