Govt. wasting billions on unsolicited projects: Harsha
Posted by Editor on September 9, 2014 - 8:29 pm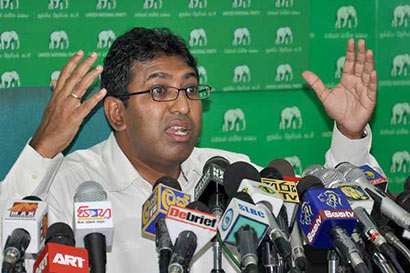 United National Party (UNP) parliamentarian and well-known economist Harsha De Silva said today the Government had got its priorities mixed up by spending a staggering Rs.337 billion obtained as loans from China on unsolicited projects including the proposed Port City.
"This amount is 70 times the Agricultural Ministry's 2013 budget allocation," he said.
"Thirty per cent of Sri Lanka's population is employed in agriculture but the government allocated only Rs.4 billion for Agriculture and Rs.31 billion for Irrigation and Water Resources Management last year while deciding to spend Rs.337 billion for unsolicited projects," he told a news conference.
Dr. De Silva said several Cabinet papers had been submitted to build flyovers in Hambantota at an estimated cost of Rs.32.7 billion; to extend a fraction of the Southern Expressway at an estimated cost of Rs.52.1 billion and to develop 'B' grade roads in Hambantota at an estimated cost of Rs.15.3 billion.
(Daily Mirror)
Latest Headlines in Sri Lanka