Govt will abide only by LLRC findings; Lanka capable of meting out justice on its own: No country can dictate terms to SL:
Posted by Editor on December 2, 2011 - 7:24 am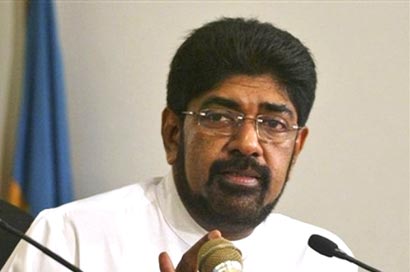 The Lessons Learnt and Reconciliation Commission (LLRC) Report is to be submitted to Parliament shortly and thereafter released to the media.
The LLRC was not something that came up due to international pressure. It was proposed by President Mahinda Rajapaksa long before the humanitarian operation ended, Cabinet Spokesman and Media Minister Keheliya Rambukwella said.
Addressing the weekly Cabinet press briefing at the Government Information Department Auditorium, Colombo yesterday, Minister Rambukwella said that nobody can come to Sri Lanka from a foreign land, find fault and impose punishments.
"Sri Lanka is an independent and democratic country. We have the required knowledge and strength to correct our faults and punish the perpetrators. Sri Lankan citizens will never accept outsiders coming to Sri Lanka, finding fault and punishing people," he said.
According to Minister Rambukwella, there will be no offenders until the LLRC finds them if there are any.
"The President and the government had one stand from the beginning and it has not changed. It will never change," the minister said.
"The stand is, it the country that has to find out if there were any mistakes and shortcomings during the humanitarian operation. The President and the government had taken this stand long before the completion of the humanitarian operation," Minister Rambukwella said.
Responding to questions posed by the journalists, Minister Rambukwella stated that the names for the proposed Parliament Select Committee to find a solution for the ethnic issue has now been handed over to the Speaker.
A full report on the incident that took place at the Anuradhapura Prison is now available. A full investigation has been conducted and the report is already released. The authorities searched suspects following the relevant rules, regulations and procedures. The suspects had regularly communicated with the Tamil Diaspora.
The suspects had 19 mobile phones and some of them had GPS facility. They were planning to 'celebrate' so called `Mahaviru Day' on a grand scale and had fake photographs etc with them. Those items were discovered during the search. Those were hardcore LTTE members. Two condemned LTTE members, some prosecuted LTTE members and some who made appeals were among them, Minister Rambukwella added.
Courtesy: Daily News
Latest Headlines in Sri Lanka