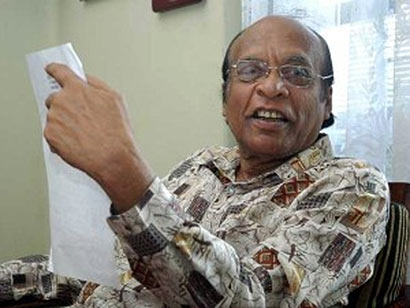 Half of the money in circulation in Sri Lanka is black money, a Senior Government Minister charged yesterday.
"It is a known and confirmed fact that half the money available and in circulation in the country is black and informal money," Communist Party General Secretary and Senior Minister of Human Resources, Don Edwin Weerasinghe (D.E.W.) Gunasekara told Ceylon Today.
The minister also said the finishing of the war, the growth of the informal economy were some of the reasons for the money in circulation to be black and that is the reason why the people's spending power has increased with the numbers reflected in the GDP and the Per Capita income being doubled. He also attributed that as one of the reasons for the government revenue to drop from 24% of GDP to 13%. This is due to the growth of a strong middle class and that was one of the reasons for which Sri Lanka has been designated as a middle income country, he said.
The formal economy is 24% of the private sector and 14% of the State sector, he said.
"One of the dangers is that there are a very few people who pay taxes at the upper level. There are the 80% of the poor, who pay taxes while the 20% of the upper class and the superrich who avoid paying taxes. Now, only 20% of the taxes are direct taxes while 80% of the taxes are indirect," he said.
The minister added the only solution to the problem was, to raise the direct taxes from 20% to 45% and reduce the indirect taxes from 60% to 30%.
He also said the Tax Administration Reforms of the three revenue houses alone could not face up to the challenges posed by the increase in consumption and the disparity of income. "They should be supported by tax policy reforms," he added.
Meanwhile, Senior Minister of International Monetary Cooperation and Deputy Minister of Finance, Dr. Sarath Amunugama, when contacted said: "All the laws are in place to protect the money. But, this is a serious allegation and if it is true, the Central Bank should investigate it."
Central Bank Governor, Ajith Nivard Cabraal said the allegation of Sri Lanka's money in circulation being black money was totally untrue.
(Courtesy: Ceylon Today)