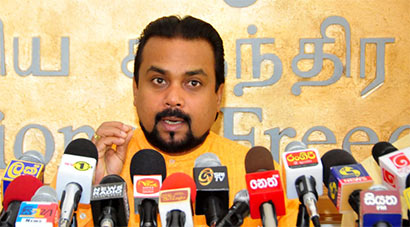 This country's hard earned freedom is at an undeniable risk due to the current government's 100 day program, says Leader of the National Freedom Front (NFF) Wimal Weerawansa.
In his Independence Day message he states that the current 100 day program agenda which has been adopted by the government will eventually pave the way to an obvious federal Sri Lanka and there is a necessity to unite on a national level to stand against it.
According to NFF leader Weerawansa, the freedom of this country is on knife's edge since the change of power in last January.
"The Tamilnet website which belongs to the LTTE is currently active without any impediments. The Northern sector Governor G. A. Chandarasiri was removed from his post alongside the Tamil nationalist separatist's plan and the newly appointed Prime Minister has promised to implement the 13th amendment after recognizing the independency of the Tamil community. Minister of Foreign Affairs Mangala Samaraweera has commented on the demilitarization of the North during his visit to India. Furthermore to make matters worse, Norway peace representative Erik Solheim, who as in favour of the separatist agendas, has reported delight over the government change," said he.
(Ceylon Today)