I did not condemn annihilation of LTTE in war, says Jayalalithaa
Posted by Editor on July 7, 2010 - 2:24 am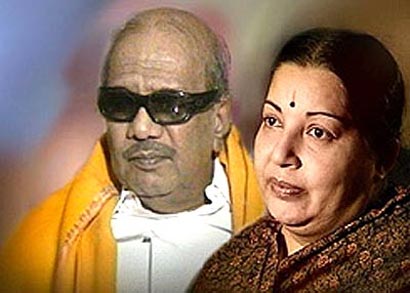 CHENNAI: AIADMK general secretary Jayalalithaa on Tuesday clarified her stand on the LTTE, saying that she did not condemn the annihilation of the LTTE in war.
"What I condemn is the wanton killing of LTTE activists surrendering, waving white flags before the Sri Lankan Armed forces. What I condemn is the killing of 50,000 unarmed civilians coming out of their bunkers, lured into believing that the war had come to an end," she said in a statement.
Joining issue with Chief Minister M. Karunanidhi over the Sri Lankan Tamils issue vis-à-vis her opposition to the LTTE, she said the Chief Minister's idea was to paint her as anti-Tamil. She said right through the 1980s, former Chief Minister MGR and she supported the LTTE-led struggle for the rights and freedom of the Tamil masses of Sri Lanka. "But when the killings of Tamil moderates, members of rival Tamil militant groups and finally the former Prime Minister of India took place, it was obvious that the outfit of freedom fighters had turned into terrorists. From that point onwards, I had the courage to oppose the LTTE," she added.
Reacting to the allegation that she was responsible for the Assembly adopting a resolution that no member of the "banned LTTE should be allowed to gain entry into India, she said, "It is not in my nature to hobnob with or be soft on elements from banned organisations."
Ms.Jayalalithaa admitted that she did say that some civilian casualties were inevitable during war.
"It is so with practically every war the world has seen. But Mr. Karunanidhi deliberately chooses to mix up civilian fatalities caused during war with the planned mass killing of civilians using banned weapons after he [Mr. Karunanidhi] had announced the end of the war. The first, I said, was inevitable," she further said.
News Source: The Hindu
Latest Headlines in Sri Lanka