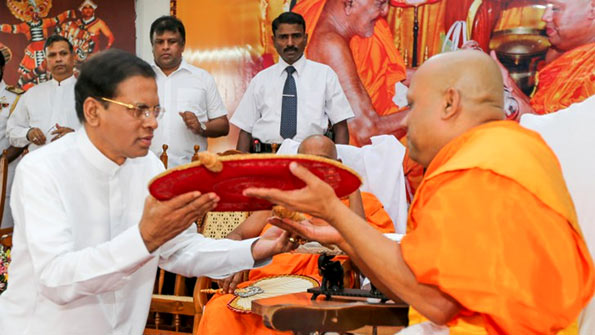 Sri Lankan President Maithripala Sirisena says he would not govern the country without the advice and guidance of the Maha Sanga.
He said a group of extremists are creating conspiracies stating that the government is going to deprive the place of the Buddhism through the new amendments to the constitution. He requested everyone not to contribute that fundamental sin which divides the country, nation as well as Maha Sanga.
The President made these remarks at the ceremony held yesterday (Jan. 10) at the Sri Bodhiraja Temple, Colombo Fort to offer the Chief Sanganayaka position of the Colombo to the Chief Incumbent of the Sri Bodhiraja Temple, Colombo Fort, Karmavagacharya of the Asgiri Sector of Shyamopali Maha Nikaya Nikula Dharmakeerthi Ven. Sri Seelarathana Pannasarabhidana Nayaka Thero.
The President emphasized that the new constitution never includes any clause to harm the place of Buddhism or the unity of the country. "The people who make such statements are doing so not because of their patriotism or the responsive feeling for the Buddha Shasana, but because of their ambition to reach their political goals", the President said.
"I am bound to protect the Buddha Shasana according to my pledge given to the people when I undertook the leadership of this country on January 08, 2015. I also am bound to protect it as a real Buddhist who was born and brought with the influence of the temple in the village. I will be committed to build a fair society for justice by safeguarding not only the Buddhism, but also all religions of this country", President Sirisena said.
The President presented the vijinipatha (the fan) to Ven. Sri Seelarathana Pannasarabhidana Thero at this occasion.
The President also was presented the book 'Pannasarabhinandana' during this ceremony.
(Government News Portal)