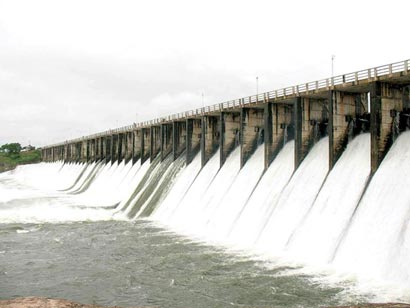 Over 100 houses in Anuradhapura were submerged by flood waters following incessant rain which lasted for nearly eight hours Tuesday. Residents said they had not experienced such heavy showers for the last 20 years. Areas worst affected included Hidogama, Pavakkulama, Maha Nelubewa, and 8th and 12th canal areas. Some of the houses were three to four feet under water while several wells and culverts were also damaged by flood waters. The rain started around 4 p.m. and lasted almost till midnight.
Meanwhile, the Rajangana reservoir is in spate and six of its sluice gates were opened yesterday morning to drain out excess water, said Irrigation Engineer D P Hettige.
He warned residents in low lying areas on the banks of Rajangana and the Kala Oya to beware of possible flood waters following the opening of sluice gates.
Hettige said more sluice gates may have to be opened later in the day, since the water flowing into the reservoir from catchment areas was rapidly increasing.
Daily News