Indo-Lanka accord is a sound framework, say experts
Posted by Editor on January 13, 2018 - 7:47 am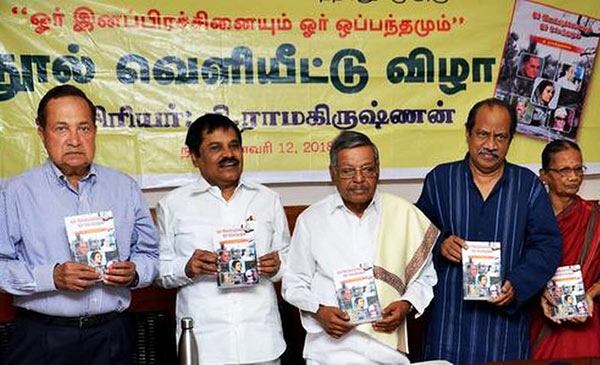 The Indo-Sri Lankan agreement drafted in 1987 is a sound framework that can be improved upon, say politicians and those who were involved closely with the political developments then.
For speakers at the launch of Tamil book, Ore inaprachinaiyum or opandhamum on Friday, it was time to recall the incidents that led to the accord and the later developments, including the assassination of former Prime Minister Rajiv Gandhi and the death of LTTE leader Prabhakaran.
N. Ram, Chairman, The Hindu Group, recalled that Panruti S. Ramachandran, then a Minister in M.G. Ramachandran's Cabinet had explained Prabakaran's position to Rajiv Gandhi and that the former would never compromise on anything less than a separate State for Tamils. "The gap could not be bridged. I know that neither Centre nor State has supported a separate State. Even in Tamil Nadu, people have not supported the idea," he said, recalling that during elections the issue was generally part of other demands. Senior journalist Gnani recalled that when the accord was being framed, he had vehemently opposed it.
Advocate K.S. Radhakrishnan recalled the events that led to India's involvement in Sri Lanka's internal strife and felt that it was a geopolitical issue that India could not neglect.
Mr. Ramachandran felt the agreement was a guarantee on the part of India but since the Sinhalese did not welcome it, the accord did not work. The decisions made by successive Sri Lankan rulers played a major part in dividing the populations. However, it is equality and providing equal opportunities that would bring about equal outcome, he said.
The book, authored by T. Ramakrishnan, Senior Associate Editor with The Hindu, was released by Mr. Ramachandran and the first copywas received by the author's mother, Rajeswari Thyagarajan.
Former IPS officer G. Thilakavathi recalled her long association with Asokamitran and his wife, Rajeswari. Nanda, publisher of Kalaignan Publications, spoke.
(The Hindu)
Latest Headlines in Sri Lanka