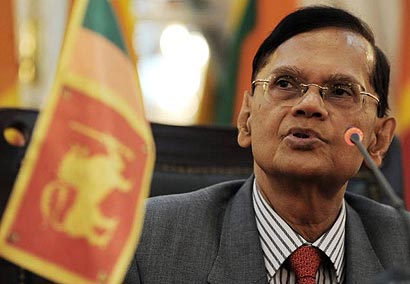 Sri Lanka, which was censured over its human rights record during the last days of the war against LTTE in 2009, has made steady progress in improving its image, External Affairs Minister said.
Addressing reporters in the central town of Kandy, External Affairs Minister G L Peiris said as many as three different foreign ministers in recent weeks had visited Sri Lanka.
Peiris said, Sri Lanka's international relations are good and have no reasons for concern.
"They have seen for themselves the progress we have made which no other country could match after a conflict which lasted as long as 30 years", Peiris said.
Peiris said no less than five different senior Indian ministers were among the foreign dignitaries to visit Sri Lanka in the recent times.
"There will be important visits from China and Russia in the near future", Peiris said.
Sri Lanka's foreign policy and its relations have come under stress since the war with the LTTE ended in 2009.
Colombo accuses the pro-LTTE Tamil diaspora of moving particularly the Western governments to act against Sri Lanka.
Since a key human rights resolution was adopted in March at the UN rights body with US and Indian backing, Sri Lanka has looked to establish diplomatic relations with regions such as Africa where the island had hitherto not attached much importance in its foreign policy, PTI reports.
Courtesy: Ada Derana