JHU warns of dangers
Posted by Editor on May 27, 2014 - 7:41 am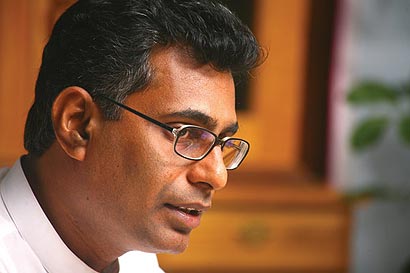 The Jathika Hela Urumaya, which met Ven. Maduluwawe Sobhitha Thera yesterday, has warned that there could be serious repercussions if changes are made to the Executive Presidency, without reforming the country's electoral system.
Ven. Sobhitha Thera, together with a few party members, including lawyers Jayampathy Wickremaratne and Ravi Jayawardena, met the JHU delegation, led by Minister Champika Ranawaka, at Ranawaka's official residence yesterday to discuss Sobhitha Thera's draft on national policies.
JHU Spokesperson, Nishantha Sri Warnasinghe, who attended the meeting with the JHU's Legal Secretary Udaya Gammanpila, said the two parties had lengthy discussions on the abolition of the Executive Presidency, reinforcing the 17th Amendment to the Constitution, and bringing an end to corruption through the introduction of a proper mechanism.
"They were keen on enacting the 17th Amendment and reintroducing the independent commissions. Discussions continued for over two hours on how to amend or abolish the Executive Presidency. It was discussed whether executive powers should be completely removed and whether proposals should be made to create a presidency that is accountable to the Parliament. Minister Ranawake pointed out the grave impact of such a move," Warnasinghe said.
The JHU had apparently not encouraged the idea of changing the executive presidency, citing it could lead to manipulations by the (ethnic) minority parties and would nourish separatists moves.
"Our party also requested the venerable thera to also pay attention to the electoral reforms recommended by Minister Dinesh Gunawardena's committee as changing executive presidency without changing the electoral system will be fruitless," Warnasinghe added.
Sobhitha Thera had also noted that there will be no point in talking about a common candidate until and unless all parties could come to a consensus on core issues. Both parties have agreed to have further lengthy discussion on the draft resolution.
(Courtesy: Ceylon Today)
Latest Headlines in Sri Lanka