Five big challenges for Modi's new government in India
Posted by Editor on May 27, 2014 - 7:28 am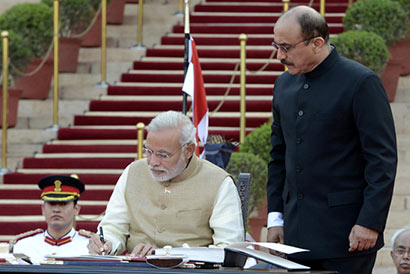 Hindu nationalist Narendra Modi was sworn in as India's prime minister on Monday, taking charge of the world's largest democracy as it struggles with an economic slowdown and a severe shortage of jobs for its booming young population.
Indian voters and foreign investors alike have high hopes for Modi, whose slick campaign presented him as a business-friendly leader who would jump-start investment. Yet his critics say he is an autocrat who harbours Hindu supremacist views.
Here are five of the biggest challenges he will face during his first months in power.
1. ECONOMY
Modi biggest challenge will be to revive an economy that is mired in its worst slowdown since the 1980s due to myriad issues such as strained public finances, persistently high inflation, high interest rates and rising bad loans at banks.
Public finances are in dire straits as government spending has outpaced revenues. The new administration will immediately need to take a decision on slashing subsidies spending, which is threatening a budget blow-out and a sovereign ratings downgrade.
Similarly, the new prime minister has his work cut out to break Asia's third-largest economy out of chronic high inflation, which has forced the central bank to keep interest rates high even as growth sags.
Adding to inflationary worries are the prospects of below-average monsoon rains this summer, which could hit farm output and fuel inflation.
Modi will need to address the problem of rising bad loans at banks, which have stifled credit flows to corporations. Stressed loans in India – those categorised as bad and restructured – total $100 billion, or about 10 percent of all loans.
2. FOSTERING GOOD TIES ABROAD, ESPECIALLY IN SOUTH ASIA
The leaders of Pakistan and other neighbours attended Modi's swearing-in ceremony, a first in India's history that signalled his aspirations to be a regional leader who could improve relations with surrounding countries.
But Modi's position on whether to hold serious talks with Pakistan, India's nuclear-armed neighbour and rival, is not yet clear. The BJP has long advocated a tough stance on Pakistan and opposed the last prime minister's attempts at talks.
India's new leader will also face challenges in Afghanistan, whose security forces are preparing to take over from departing foreign troops in the fight against a Taliban insurgency. India's consulate in the Afghan city of Herat was attacked by armed insurgents last week.
Further afield, Modi will need to reinvigorate India's relationship with China and the United States. Ties between the two largest democracies have cooled due to trade disputes and the arrest of an Indian diplomat in New York.
3. REASSURING INDIA'S RELIGIOUS MINORITIES
In Modi's first speech as prime minister-elect, he vowed to work for all Indians. Yet there are still concerns that the Hindu nationalist could stir communal tensions with Muslims, who account for 15 percent of India's 1.2 billion people.
Modi took a tough line in his campaign speeches on illegal immigrants from Bangladesh, a Muslim-majority nation, saying they should have their "bags packed" in case he came to power. He called Hindu refugees from the country "family".
His critics accuse him of failing to stop or even allowing gruesome Hindu-Muslim riots in 2002 in the state of Gujarat, where he was chief minister. Modi denies the accusations and a Supreme Court inquiry did not find enough evidence to prosecute him.
4. INTERNAL SECURITY
India's main internal security threat is from Maoists. They have acquired guns, hand grenades and guerrilla war expertise over the years and routinely target security forces and other government officials in areas that contains the country's richest mineral deposits.
Top Indian iron ore miner NMDC Ltd and the world's top coal miner, Coal India Limited, spend growing amounts on security. Some small- and mid-sized mining companies are also forced to pay "protection" fees to the Maoists.
5. CENTRE-STATE RELATIONS
The new federal government will need to mend frayed ties with state governments, who often complain of New Delhi's big brother attitude.
A fear of losing fiscal powers forced some states to delay the rollout of a nationwide goods and services tax (GST), which economist estimate would have boosted India's economic growth by as much as 2 percentage points. Opposition from states blocked a plan of the previous government to counter terrorism.
Modi needs to act fast as states hold the key for a revival in capital investments, which barely grew last fiscal year as delays in clearances grounded many infrastructure projects.
States wield much of the power in approving projects as only a quarter of approvals come from the federal agencies.
(Reuters)
Latest Headlines in Sri Lanka