Joint Opposition calls on 'victims' of UNP to join today's rally
Posted by Editor on March 17, 2016 - 10:31 am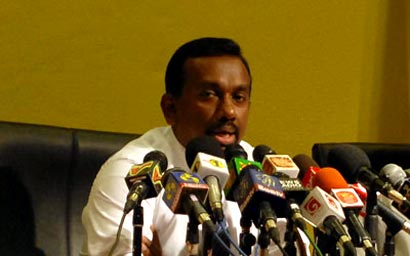 Parliamentarians attached to the Sri Lanka Freedom Party's joint opposition yesterday said that they hoped the party wouldn't take disciplinary action against them for taking part in the rally which would be held today (17) in Colombo as it would be held against the United National Party (UNP).
The rally organised by the joint opposition would be held at the Hyde Park Grounds, in Colombo this afternoon with the participation of ex-President Mahinda Rajapaksa against the Government led by the UNP.
Addressing a news conference, MP Mahindananda Aluthgamage said it was the nature and the responsibility of the pro-left SLFP to go against a pro-right party like the UNP. "We are against the policies of the UNP. The government is headed by Prime Minister Ranil Wickremesinghe who is the UNP Leader. He does whatever he wants and takes arbitrary actions without considering the opinion of others. That's why we are against a government led by him. The first of a series of actions aimed at sending this government home will commence with the rally at Hyde Park," he said.
Earlier, Social Empowerment and Welfare Minister S. B. Dissanayake warned that the SLFP MPs who participate in today's rally would face possible disciplinary action by the party.
Responding to the minister's remarks, MP Aluthgamage asked whether it was fair to take disciplinary action by the SLFP on its MPs for going against the UNP which is considered the common enemy of the SLFP. "Sending the UNP-led government home would only favour the SLFP. We don't think the party will take disciplinary action against us. After all, we don't see anything wrong with paving the way for the SLFP to form its own government," he said.
He said they had not being informed so far in writing about any disciplinary action that would be taken and said even if they did receive letters, their argument would remain unchanged.
The MP said Ex-President Rajapaksa would definitely address the rally today while Janatha Sevaka Party Leader Somawansa Amarasinghe and representatives of more than 50 political parties would also participate in the rally.
Meanwhile, MP Rohitha Abeygunawardena said there were attempts by the government to sabotage the rally. "No obstacle can stop us. We invite the victims of this government to join us. We invite people whose concessions have been curtailed and those who have been burdened by the heavy taxes of this government to take part in this rally," he said.
(Source: Daily Mirror)
Latest Headlines in Sri Lanka