JVP calls for war crimes probe
Posted by Editor on November 28, 2011 - 6:30 am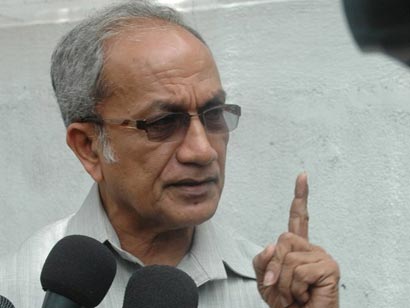 An opposition party in Sri Lanka that supported the government's war against the Tamil Tigers has called for an investigation into alleged war crimes.
Somawansa Amerasinghe, the leader of Janatha Vimukthi Peramuna (JVP) says it supports the recent statement by the defence secretary that accountability will be addressed by the government if needed.
"Every war is a dirty war. The war is the worst thing in the world," the JVP leader told BBC Sandeshaya.
The JVP leader is visiting England to address several meetings commemorating party members killed by Sri Lanka's armed forces in the late eighties.
Addressing a recent seminar in Colombo, Defence Secretary Gotabhaya Rajapaksa said that the government has investigated alleged war crimes,"including those concerning major offences including murder, rape and sexual abuse."
'Investigations held'
"Swift action was taken by the military to punish those individuals found guilty of such crimes. Action was also pursued in the civil courts. If, in future, any substantial evidence is provided on crimes committed by its personnel, the Sri Lankan military will not hesitate to take appropriate action," said the defence secretary.
Investigations conducted as claimed by the defence secretary was proof that war crimes were committed by Sri Lanka troops, said the JVP leader.
"War crimes happen in a war. Even the defence secretary has admitted that," he added.
Gotabhaya Rajapaksa has said that the government also conducted a census on the civilians died in the last stage of the war.
The Sri Lankan Military can bear any responsibility only for deaths 'that occurred due to military action'.
People have died of natural causes and accidents as well as fighting for the LTTE, he said.
Somawansa Amerasinghe, who said the party was told by the affected families of war crimes committed by Sri Lanka troops, added that the census was also a result of the pressure exerted by the JVP on the government.
Census on the dead
However, the JVP leader defended the party's decision to support Sri Lankan troops in its war against the Tamil Tigers.
Adding that the party has "no faith" in government-appointed commissions, he said.
His party would not, however, join international human rights organisations such as Amnesty International and Human Rights Watch in their call for an international investigation on alleged war crimes.
"If Sri Lanka government properly investigate these accusations, no international investigation is needed," said Mr Amerasinghe.
However, due to what he called government's stupid actions, "the international community has succeeded in intervening in Sri Lankan affairs."
While a UN advisory panel estimated that nearly 40,000 civilians died during the last stages, the government that initially maintained that not a single civilian was killed later said that about 5000 may have been killed.
BBC News
Latest Headlines in Sri Lanka