JVP to expose names soon!
Posted by Editor on December 8, 2015 - 7:00 am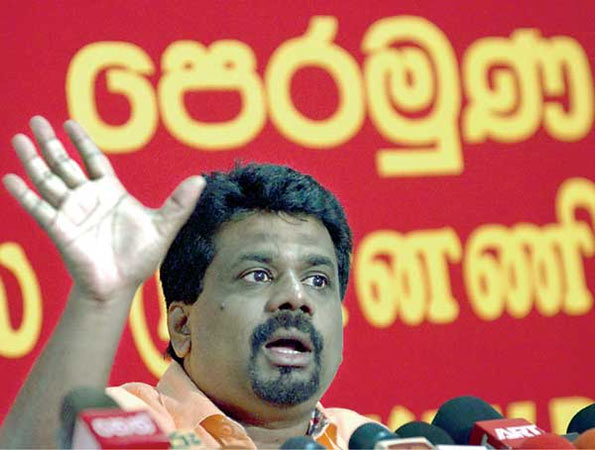 Opposition Whip Anura Kumara Dissanayake said yesterday, the JVP would at the opportune moment reveal detailed information of journalists who accepted financial kickbacks from Avant Garde in return for soft-pedalling negative publicity relating to the controversy that has been dogging the company for years.
The JVP leader said in Parliament when speaking on the third reading of the Budget proposals that the party would vote against the proposals. It was at this juncture that Dissanayake announced his bombshell about exposing "a few journalists who wrote articles praising Avant Garde irrespective of the fact that there were indications of something wrong when the Government handed over the Avant Garde matter to the Sri Lanka Navy.
That proves there was something wrong with the deals at Avant Garde in the first place" he said.
"There are media organizations and others who shout about fraud and corruption and then defend and protect Avant Garde. This involves not only corruption but also politics. Questions have arisen about the income earned by Avant Garde after its businesses were handed over to the Navy.
I stand by what I said and submitted documentary evidence of Avant Garde getting Rs 35 billion by way of income over a period of two years.
He added that the JVP stood against a culture in which the media is controlled by Avant Garde. In such a situation the people have the right to know who is involved in these things" he added.
(Source: Ceylon Today – By Ruwan Laknath Jayakody)
Latest Headlines in Sri Lanka