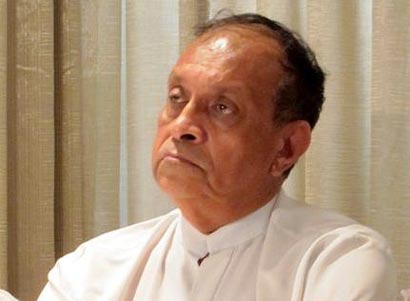 United National Party Parliamentarian Karu Jayasuriya has issued a media release yesterday in view of the completion of three years since Former Army Commander Sarath Fonseka was imprisoned and the completion of six years since he was injured in a suicide bomb attack.
The then Army Commander Sarath Fonseka was injured in a suicide bomb attack within the Army Headquarters on  April 25, 2006.
Issuing a media release, UNP Parliamentarian Karu Jayasuriya recalls that former Army Commander Sarath Fonseka on that day stood up on behalf of the nation, even holding on to the organs in his stomach that had spilled out, whilst the soil of his motherland was soaking with his blood.
MP Karu Jayasuriya further notes that Sarath Fonseka who recovered from this ordeal, recommenced duties in July 2006 and promised to complete the war himself, without leaving it to another Commander and that he accomplished this task as promised.
However, Jayasuriya states that the name of Sarath Fonseka, who provided military leadership to defeat the LTTE by killing Prabhakaran, has been removed from army records.
Jayasuriya points out that the medals he earned for heroic acts he performed by shedding his blood had been taken away from him and even his pension has been withdrawn.
He says that this is the unpalatable truth today, when we mark six years since the day General Sarath Fonseka escaped from death at the hands of a suicide bomber and the completion of three years of his
imprisonment.
Courtesy: News First