Karunanidhi slams Lanka for raking up Kudankulam nuclear power plant issue
Posted by Editor on April 10, 2012 - 8:57 pm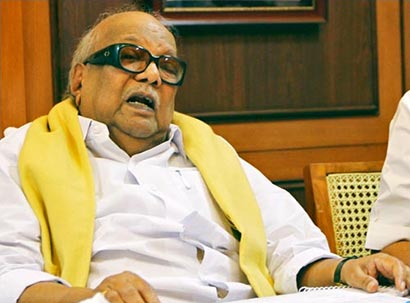 Onlanka News – By Walter Jayawardhana
DMK President and former Tamil Nadu Chief Minister Muthuvel Karunanidhi  slammed Sri Lanka for raking up the Kudankulam Nuclear Power Project issue, saying it had been there for many years and India's Southern neighbour's protests now cannot be accepted.
The Kudankulam project was not something new and had been started many years ago and work on it is currently in progress, he said, adding it cannot be "accepted if they rake up the issue now."
"Indian government will do what is required," he told reporters at his residence before leaving for the assembly to sign the MLA's register, reported the daily Pioneer in an item in the front page of the news paper.
Meanwhile the Times of India writing an item ,separately, said Sri Lanka was now raising the issue in retaliation to India's vote against Sri Lanka at the United Nations Human Rights Council meeting in Geneva recently.
The Times report said, ": In what is seen as an apparent retaliation for India's vote against Sri Lanka at the UN Human Rights Council, Sri Lanka's energy minister has said they were threatened by the Kudankulam nuclear plant, in case of a Fukushima-like disaster.
"Champika Ranawaka, Lanka energy minister, reportedly told journalists in Colombo that Sri Lanka would refer the matter to the IAEA at a meeting in September. The Lankan statement comes as the Kudankulam nuclear plant is finally ready after being bedeviled by protests for the better part of a year.
"Indian officials said Sri Lanka cannot go to the IAEA with this matter because there is no convention that covers such issues. At best, Sri Lanka can make a political statement at the IAEA general conference."
Karunanidhi's remarks came a day after Colombo voiced concern over the possible impact of radiation from India's nuclear power plants in the southern region, as it prepares to raise the issue with global atomic watchdog IAEA.
"We respect the right of India to have nuclear power stations. But our concerns are on the possible radiation affects they could have on Sri Lanka. We have already written a letter", Sri Lanka's power and energy minister Champika Ranawaka had said.
Kudankulam nuclear plant in India's Southern coast is just 250 km from Sri Lanka's northwest coastal town of Mannar.
The Times report further said: "The IAEA would, as it already has, referred Lanka to India asking Colombo to work out an agreement with India. The minister even said, "We have sent a proposal to India through the external affairs ministry and the Indians have sent back a note on the matter.
"Officials here said the Lankans have not yet had any technical study done to back up their claims of suffering damage. Ranawaka was quoted as saying that Lankan northern town of Mannar would be threatened in the event of an accident in Tamil Nadu, because it is merely 20 km from the Indian mainland.
"Indian government and its atomic energy department, said sources here, have agreed to have a public discussion with Sri Lanka on all the safety aspects of the nuclear power plants in south India. They said India wanted to allay any Lankan fears on the matter. The Department of Atomic Energy is expected to answer all queries by the Sri Lanka Atomic Energy Authority, officials said.
"However, officials said there isn't any international agreement between nations on the matter of a nuclear accident. So despite the Lankan minister saying that they would ask for a bilateral agreement with India, New Delhi would want to keep it to a discussion level, because there are no such agreements between nations, so no template actually exists.
"The closest would be the IAEA's Convention on Supplementary Compensation (CSC). India has signed this agreement on liability, though has not yet ratified it. The convention calls for countries to pool in amounts into the CSC funds which they could draw from in the event of nuclear damage. That agreement has a provision whereby a neighbouring country, if affected by a nuclear disaster in another country, would be eligible for compensation. India will make the point that Sri Lanka could be covered under this regime once India ratifies the CSC.
"But by and large, Indian government sources said they believe this is political payback by hurt Lankan leadership by India's vote against Colombo. There is also a perception that India's decision was influenced by Jayalalithaa, who had pressured the Central government to vote against Lanka.
"PM Manmohan Singh has already sent in a letter explaining India's vote and tried hard to smooth ruffled feathers there. But this incident makes it clear that New Delhi has to work harder to reassure Colombo."
Latest Headlines in Sri Lanka