Kumar Sangakkara wins LMD's SLOTY award
Posted by Editor on December 9, 2011 - 7:35 am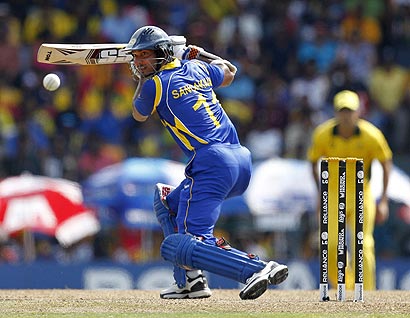 Pioneering business magazine LMD announced yesterday that Kumar Sangakkara is its Sri Lankan Of The Year (SLOTY) for 2011.
The magazine's December edition, which will be released today, says that "the celebrated cricket captain has charmed an entire nation with his heroics on the field and charisma off it."
In a tribute to Sangakkara in LMD's December Cover Story, former UN Secretary-General contender and highly respected diplomat Jayantha Dhanapala
– who was LMD's 2006 SLOTY – writes: "He is an inspirational national figure, leading us on the road from reconciliation to rebuilding a new nation on a solid foundation of values drawn from our rich history as well as from modern democratic concepts…"
Asked what his message to the people of our land is vis-a-vis national unity is, in an exclusive interview in LMD, the man himself states: "Lessons of the immediate past have been graphic, impacting both the majority and the minority, irrespective of caste, creed, race or religion.
These lessons belong to all of us, lessons we must understand and use to embrace and foster in each and every one of us. Our sense of unity must come from tolerance, understanding and love, without which future reconciliation will be difficult.
Implementation of policies and development is useless if we don't have a sense of unity that lives within the people."
"On a daily basis, we need to teach our children and future generation of the horrors of division and the wonders of unity.
To sow these seeds in young minds are important, as they need to see people beyond the petty labels we're so good at pasting on each other.
The message we send them should be exemplified by the way we live and the way we act, not simply in words but in really walking the talk. This is the true step we take towards development… So the message is to understand, love and foster this sense of 'Sri Lankanness'…", he adds.
President Mahinda Rajapaksa won the award in 2009 for bringing the 26-year-old war to an end, whilst Muttiah Muralitharan was LMD's SLOTY last year – for his efforts on the field and for being a torchbearer of national unity in times gone by. Sangakkara is LMD's 17th SLOTY, the first being the late Lakshman Kadirgamar in 1995.
Courtesy: Daily News
Latest Headlines in Sri Lanka