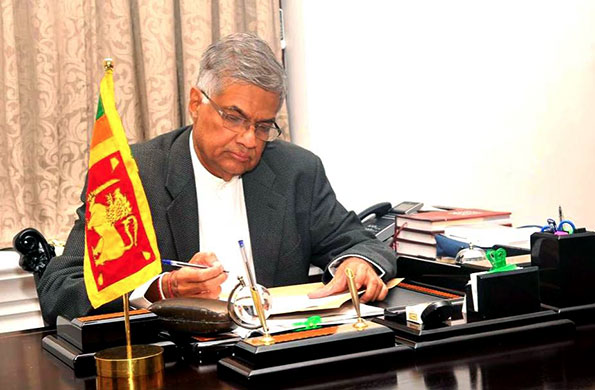 Prime Minister Ranil Wickremesinghe informed Parliament yesterday that the Local Government elections would be held in January, while the Party leaders would take a decision on the fate of the Provincial Council polls.
Making an announce-ment in the House, the Prime Minister said, that the LG polls would be delayed till next January due to the GCE Ordinary Level examinations, being held in mid-December and the Budget debates.
"The Ministry of Education has requested that the elections not be held this year," he said.
Highly placed sources in the Government told Ceylon Today, that the LG polls for all Municipalities and Pradesheeya Sabhas will be held on 20 January.
UPFA Kurunegala District MP and former President Mahinda Rajapaksa then inquired as to when the Provincial Council elections would be held.
" You said Local Government elections will be held in January next year, but we would like to know as to when the government intends to hold the polls of those Provincial Councils whose terms end next month," Rajapaksa questioned, while citing the Elections Commission's willingness to hold Provincial Council ……elections this year. In response the Prime Minister said that Budget debates and the GCE (O/L) Examinations would hinder these elections too.
"We will have to discuss with the polls chief and the political parties concerning this issue," he said.
He went on to say that the LG elections were delayed because of several unresolved matters such as wards. "The previous Government has created wards in unpopulated areas. This was done to get political mileage," he said.
In addition, the Prime Minister said that the Government would introduce a new mixed electoral system for the LG polls based on the ward system.
"We have also been able to secure the small parties and ensure a fair slot for women in all local bodies" he added. The Prime Minister assured that the mixed electoral system will be extended to Provincial Councils and Parliamentary elections as well." All changes will be done with the consent of all parties."
(Source: Ceylon Today – By Skandha Gunasekara)