"Loses temper, berates seniors'' – Harry J defends himself vigorously against anonymous attackers
Posted by Editor on July 24, 2011 - 8:01 pm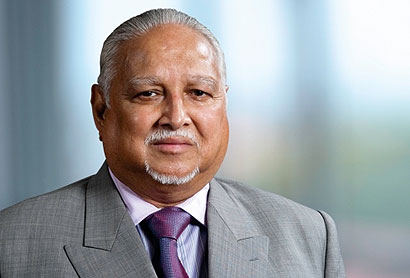 The three member committee headed by Power and Energy Ministry Secretary M.M.C. Ferdinando, which is probing into the 20,000 tonnes substandard petrol import scam by the Ceylon Petroleum Corporation is now expected to hand over their findings next week. But the question being asked is whether that report will tell the whole truth because of its limited scope.
Sources said the investigators will definitely point out the failure to follow basic set procedure in ordering the particular shipment og sub-standard fuel and possible bungling and misconduct by two senior officials directly involved in ordering the purchase.
The real problem, the CPC insiders said, was far deeper and more serious especially at an institution so vital to the whole economy.
Though not obvious to most people, the CPC is vital to other large state-owned organizations such as the CEB, CTB, CGR, airlines and even the big state banks which get a lot of business by opening letters of credit for the corporation's crude and processed oil imports.
While the bane of most corporations has been the appointment of incompetent political henchmen to run them, the CPC Chairman Don Harold Stassen Jayawardena is widely regarded as a "super charged, super-efficient'' businessman with little patience with the state entity culture.
What some of the top professionals, both men and women in CPC who are in service and retired, complain most about is Jayawardena's temper and lack of patience. They say he does not show any regard for position, age or an individual's self respect and behaves like an absolute dictator.
"Often senior managers are nervous wrecks in his presence", said one senior retired official, but none of the officials both serving and retired were willing to speak on the record.
To be fair by Jayawardena, it must be clearly stated that the alleged sub-standard oil import fraud happened while he was away, having undergone heart surgery in April / May period and then gone abroad for follow-up medical attention for some days in June when CPC was directly under Ministry Secretary Titus Jayawardena.
The fact remains some top managers have left allegedly after being taken to task by the chairman often in the presence of others. The other major problem has been that even where top officials have been interdicted or left the corporation for other reasons, those posts have not been filled.
The result has been vital posts such as DGM Finance, DGM Administration, Manager Refinery, Head of Commercial, Head of Legal and Marketing Manager have remained vacant for months.
After the retirement of former Head of Commercial K.S.W. Kottachchi early this year, it was acting head Uditha Doloswela who was involved in ordering the substandard shipment with the Ministry Secretary Titus Jayawardena.
The other major complaint against the Chairman/ Managing Director Jayawardena is that he comes to the Corporation only after 4:00 pm having first attended to his own business empire during the greater part of the day. Since there is no General Manager either in the interim, the place is without a single head other than heads or acting heads of separate divisions.
Earlier, Petroleum Industries Minister Susil Premajayantha also told The Island that he could not understand why key posts in the corporation were not being filled despite his giving directions to do so.
Harry Jayawardena is difficult to reach but we spoke to him yesterday and raised many of the issues raised by some senior officials of CPC. Firstly he denied coming to the corporation late every day. "I come at various times", he said emphatically.
He said he was non-executive chairman of CPC and was only there to give directives with the Board of Directors meeting once or twice a month.
He explained his reasons for taking some senior managers to task but as those concerned were not available to give their side of the story, we are unable to publish what Jayawardena candidly said.
He was clear in his view that CPC was full of incompetence and corruption with a small coterie milking the corporation to the tune of billions of rupees. These things would eventually come out, he said.
"There are those who have amassed billions taking the public for a ride", he declared.
Dealing with incompetence, Jaywardena said there were officials in CPC who did not know how to open a letter of credit or who did not know the difference between CIF (cost, insurance, freight) and FOB (free on board). There were those who did not know how to do basic costing.
Over the years billions had been paid as demurrage due to the incompetence of officials and such amounts were so massive that they can be likened to the hedging deal. Billions of rupees had not been reclaimed from the Customs and Inland Revenue, he said.
One of the country's few self-made business tycoons, he said he had only held the job for about a year and he had not taken a cent for doing the job; but he found that the corruption in the institution was such that the corporation could not even import a proper petrol pump. "Everything that is imported is defective".
As for not filling the top posts, he said they advertised the vacancies and found that often applicants were not qualified for the job and where they wanted to make appointments, they were held back due to holding of elections.
He was doing his best to build up the place by sending people for training both here and abroad and recruiting competent people.
Jayawardena, who does not suffer fools gladly however claimed he was accessible to his managers.
The type of problem faced by Jayewardena can be gauged from the fact that the Indian Oil Company which accounts for about 30 per cent of the fuel sales in Sri Lanka manages with less than 190 employees, while the CPC has about 3,000 and the Ceylon Petroleum Storage Terminals Ltd. a similar number.
Clearly all governments have used CPC and other state sector ventures as employment banks, analysts said.
Sources said the entire corporation could be run with about 500 competent and qualified staff.
A knowledgeable insider said "unlike in the corporate world there is no succession plan here and it is the head of the division who handles everything by himself and when he retires or leaves the job the next man appointed to act is not the best man for the job as he is not fully conversant with such an important job."
Both the PA government that came to power in 1994 and the UNP government of 2001 have also added to the problems in the corporation by promoting large numbers incompetent and inexperienced party men on grounds of political victimization.
In order to accommodate them, even the periodic recruitment of management trainees has been suspended for quite some time.
Fortunately none of the politically promoted employees have entered the senior managerial levels other than some who have reached executive grades.
Courtesy: The Island
Latest Headlines in Sri Lanka