Maggi to be taken off shelves across India
Posted by Editor on June 5, 2015 - 11:55 am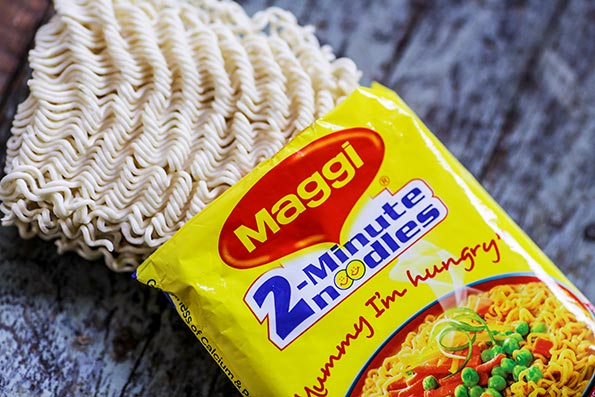 Manufacturer Nestle India decided to take "Maggi" off the shelves late on Thursday after six states, including national capital Delhi, imposed ban on the instant noodles following a controversy over food safety fears.
"The trust of our consumers and the safety of our products is our first priority. Unfortunately, recent developments and unfounded concerns about the product have led to an environment of confusion for the consumer, to such an extent that we have decided to withdraw the product off the shelves, despite the product being safe," Nestle said in a press release posted on its website late on Thursday night.
The decision came on the day five states — Assam, Jammu and Kashmir, Gujarat, Tamil Nadu and Uttarakhand — cracked the whip against the popular 'two-minute' noodles that is widely consumed across the country and contributes over a quarter to Nestle India's revenues. At least 10 other states have sent samples of Maggi noodles for tests amid a widespread panic
"We promise that the trusted MAGGI Noodles will be back in the market as soon as the current situation is clarified," Nestle said in the release.
"MAGGI Noodles are completely safe and have been trusted in India for over 30 years," Nestle reiterated, reacting to the lab tests that showed the noodles contained dangerously high levels of lead and chemical flavour enhancer Monosodium Glutamate (MSG).
Health experts say excessive intake of lead can cause damage to the kidneys, bones and nervous system and is particularly harmful to children and can cause learning disorders. MSG, on the other hand, can damage the nervous system with long-term use.
A number of prominent retailers including the Future Group, which runs Big Bazaar, Walmart and Metro AG have already taken the ubiquitous snack from off their shelves.
The flurry of bans hurt Nestle India with plunging sales of its flagship product sending share prices down by around 4% on Thursday, following a nearly 10% slump on Wednesday.
Meanwhile, the country's food safety regulator has ordered state governments to check all noodle products.
Tamil Nadu on Thursday became the first state to ban other noodle brands as well. The state said tests showed excessive levels of lead in Maggi noodles and Reliance's instant noodles, as well as Wai Wai Xpress Noodles and Smith and Jones Chicken Masala Noodles.
"Manufacturing, stocking and sales…will be banned for three months as an initial move," the state government said in a statement.
Yudhvir Singh Malik, chief executive of the Food Safety and Standards Authority of India (FSSAI), said, "I have told states to not confine only to Maggi, but extend to other manufacturers of noodles."
"Why should we isolate Nestle? It's not a question of targeting."
Several companies including ITC, Hindustan Unilever, Reliance Industries as well as numerous smaller firms sell noodle products in India.
(Hindustan Times)
Latest Headlines in Sri Lanka