Maithripala challenges Ranil to debate
Posted by Editor on August 17, 2012 - 8:19 am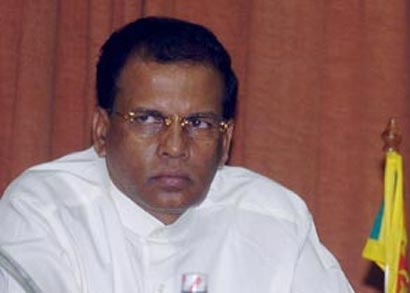 SLFP General Secretary Minister Maithripala Sirisena yesterday issued an open challenge to Opposition Leader Ranil Wickremesinghe to a public debate about the allegation made by him that Wickremesinghe tried to undermine Gamini Dissanayake's 1994 presidential election campaign by providing information about Dissanayake's election strategies to UPFA candidate Chandrika Bandaranaike Kumaratunga.
Minister Sirisena alleged that Wickremesinghe was making
a vain bid to ridicule the revelation made by him by getting representatives of his party to issue statements about it.
Instead of resorting to such tactics Wickremesinghe himself should face him in a public debate as expected by the public and disillusioned UNP membership.
Minister Sirisena in a communique issued in his capacity as SLFP General Secretary said he once again divulged the special role played by Wickremesinghe in passing Gamini Dissanayake's electoral plans and strategies to Chandrika Kumaratunga.
Minister Sirisena said Wickremesinghe's unsuccessful bid to consolidate his position as party leader for six years had been challenged and added to this the revelation made by him has further eroded UNP strength with supporters leaving the party enmasse to join the UPFA making Wickremesinghe jittery and panicky.
If Wickremesinghe is a veteran politician what he should do is to act in a straightforward manner and face a public debate to show his followers that he still had self confidence.
Instead what is happening is that the Ranil clique which thought that they should protect their leader at all costs for their own survival were getting the Party General Secretary to issue statements calling for a debate with him.
Courtesy: Daily News
Latest Headlines in Sri Lanka