Maldives lists SL as closest friend and adviser; While India, China grapple for greater control over new govt. in Maleby Zacki Jabbar
Posted by Editor on March 6, 2012 - 7:28 am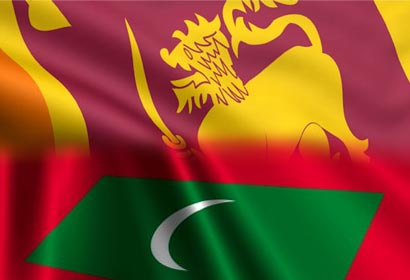 While India and China seek greater influence over the Maldives, the new unity government of President Mohammed Waheed,said yesterday that they had always obtained Sri Lanka's advice, which was considered to be one of its closest friends.
Mohamed Hussain Shareef, the Maldivian Minister of Human Resources and Youth Affairs, told a news conference in Colombo that his country was a non-aligned nation, but considered Sri Lanka to be its closest friend, ally and adviser.
Shortly after President Waheed assumed office on February 7, it was to President Mahinda Rajapaksa that he had sent a special message through his Vice President designate Mohamed Waheeduddin, he said.
The Minister said that even during the height of the political crisis, former President Mohammed Nasheed had turned to Rajapaksa, who personally visited Male to negotiate between the warring parties.
Calling on the MDP, which was still unofficially led by former President Nasheed, to sincerely participate in the all party talks aimed at resolving the political crisis, he said that unless Nasheed accepted the legality of the government, judiciary and military, it would not be possible to accede to his request for an early election ahead of the scheduled October 2013 date.
Abbas Ali Reza, the Chief spokesman of the Maldivian government, alleged that due to the intransigence of Nasheed, the all party talks had virtually broken down, but President Waheed had not closed communication lines and was hoping that reason and sanity would prevail.
Hussain Shihab, the Maldivian High Commissioner to Sri Lanka, said that two out of the three key portfolios that were not filled, hoping that the MDP would join the unity government, were given to two respected figures yesterday.
President Waheed appointed Abdul Samad Abdullah, who was with the WHO for nearly fifteen years as Foreign Minister, while the Finance portfolio was given to the former Governor of the Maldives Monetary Authority M. Jahaz, he said.
Courtesy: The Island
Latest Headlines in Sri Lanka