Masses can achieve victories only by organizing themselves– JVP
Posted by Editor on February 18, 2012 - 7:43 am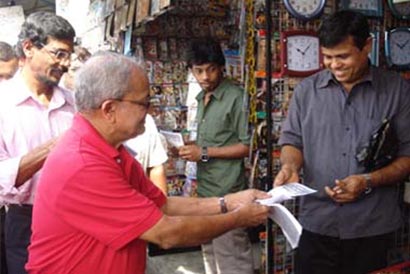 A campaign of distributing leaflets demanding the government to bring down the prices of fuel, electricity and bus fares commenced today (17th) from opposite the Colombo Fort Railway Station. The JVP Leaders including  Somawansa Amarasinghe and a large number of JVP members and supporters participated.
The people showed a keen interest to get the leaflets and thanked JVP Leaders for awakening the masses at this juncture.
Speaking to the media the JVP Leader Somawansa Amarsinghe said, "As a result of Mahinda Rajapaksa government increasing prices of fuel the prices of all other goods and services have started to go up. Electricity tariffs have gone up from 30% to 40%. The increase in fuel prices affects all strata of the society. Anton Fernando from Chilaw who agitated against this state of affairs was shot dead.
An agitation organized by the JVP against the increase of fuel prices was attacked by tear gas and water cannon. The government to fulfill the interests of imperialists is suppressing the masses and increasing the cost of living. We call upon all the people in this country to agitate against this capitalist government. You have to pressurize the government to bring down the prices of fuel. There is no other answer other than organization for masses. It has been proved that vile agendas of this government could be defeated. We ask all communities of this country to rally with the JVP to achieve victory for the people."
Courtesy: Lanka Truth
Latest Headlines in Sri Lanka