Mattala-Colombo SriLankan flight hit: Ice or birds?
Posted by Editor on March 31, 2013 - 8:25 am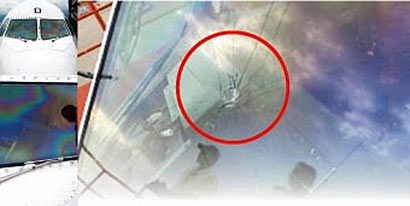 A SriLankan Airlines aircraft has been damaged when it ran into a "burst of hail" while descending into Bandaranaike International Airport, Katunayake, official records show. The incident, which occurred on Monday, left a crack in the aircraft's windshield. The Airbus 330 was flying from the Maldivian capital of Male to Katunayake via Mattala Rajakapsa International Airport with passengers on board.
The 'Mandatory Occurrence Report' filed with the office of the Director General of Civil Aviation states that the aircraft had "encountered a burst of hail when descending through rain at 11,000 ft, for landing at CMB and consequently the left windshield had cracked".
"This has been confirmed by a separate Occurrence Report filed with this office by the Quality Assurance Department of SriLankan Airlines Ltd., after carrying out an investigation," Civil Aviation Director General H.M.C. Nimalsiri said. It was reported that the aircraft was damaged when it flew into a flock of birds shortly after taking off from Mattala.
Mr. Nimalsiri said he had "no information whatsoever" to this effect. Other sources from SriLankan Airlines, including pilots, also confirmed that it was ice, and not birds, that had hit the plane. Official sources dismissed speculation that the pilot of the aircraft might have lied on the Mandatory Occurrence Report. They said it was a legal document and that submitting false information would have serious repercussions.
Meanwhile, aviation professionals do not rule out the possibility of bird strikes at Mattala. Informed sources said that even the aircraft that was used in the first night landing on March 14 had hit a bird. They urged the authorities to take necessary precautions because the airport was in the vicinity of the bird sanctuaries at Weerawila and Bundala.
(Courtesy: Sunday Times)
Latest Headlines in Sri Lanka