Mervyn does it again
Posted by Editor on October 4, 2011 - 9:18 am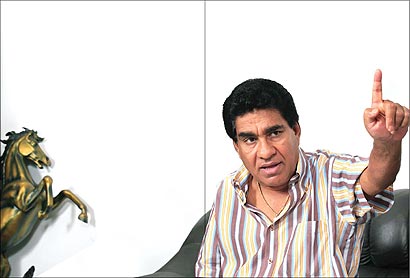 A member of the Dharmaloka College Kelaniya Parent-Teacher Association who had been severely critical of a lottery that the school was planning to introduce to raise funds for the college swimming pool was severely warned by Public Relations Minister Mervyn Silva.
The critical comments were originally made over a private radio. The Minister visited the school yesterday at around 9.30 am, having called the individual to the school to warn him against making such comments about the school in public. The argument reached fever pitch resulting the Minister dragging the critic by his shirt collar and pushing him aside.
Earlier, the victim asked the Minister for an opportunity to present his side of the story but the Minister threatened him not to engage in acts of sabotage.
When asked by The Island why the minister overreacted to the extent of holding the critic by the collar and pushing him, minister Silva said that there was a section of the public engaged in acts of sabotage to bring the school concerned into disrepute.
The Minister advised the Principal Dharmaloka Nimal Jayaweera to administer the school democratically.
Courtesy: The Island
Latest Headlines in Sri Lanka