Mohan Peiris new CJ
Posted by Editor on January 15, 2013 - 8:09 am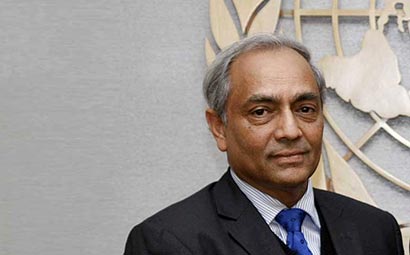 Former Attorney General Mohan Peiris is tipped to be appointed as the next Chief Justice today, after approval by the Parliamentary Council (PC) in conformity with the 18th Amendment to the Constitution, informed sources said yesterday.
The PC established under the 18th Amendment would meet this morning to approve this appointment. The PC comprises Speaker Chamal Rajapaksa, Prime Minister D.M. Jayaratne and Leader of the Opposition Ranil Wickremesinghe as ex-officio members with UNP MP D.M. Swaminathan as the nominee of  Wickremesinghe and Government MP A.H.M. Azwer as that of the    Prime Minister.
Once the name is approved, it will be sent to President Mahinda Rajapaksa for sanctioning.   Peiris was the Attorney General till 2011. After he retired from office, he was appointed as a legal consultant to the Cabinet of Ministers.   Also, he has lobbied for Sri Lanka during the sessions of the United Nations Human Rights Council (UNHRC) in recent years.   Currently, he is engaged in supervising the implementations of recommendations by the Lessons Learnt and Reconciliation Commission (LLRC).
The PC will meet at 10.00 am today to confirm his appointment to the top post in the judiciary.  The UNP representatives of the PC will not attend today's meeting as usual. Right from the beginning, the party has taken a stand that the PC is an advisory body with no powers.
"It is an advisory body. If the PC makes any appointment, the executive can disregard it. It is the executive that takes the final decision. Therefore, the UNP does not participate in PC meetings," a senior member of the party said on condition of anonymity.
Meanwhile, Lanka Samasamaja Party (LSSP), a government ally, said they would accept the appointment of a new Chief Justice. LSSP leader Senior Minister Prof. Tissa Vitarana said  his party abstained from voting   because the government did not agree to amend the Standing Order concerned.
Courtesy: DM Online
Latest Headlines in Sri Lanka