Lawyers vow to challenge appointment of new CJ
Posted by Editor on January 15, 2013 - 7:52 am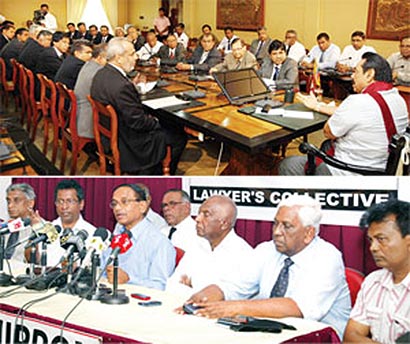 The Lawyers Collective has decided to challenge the appointment of the new Chief Justice before the Supreme Court by filing a fundamental rights violation case.
They would seek a Quo warranto (by what warrant/authority) writ against the new appointment and that such appointment be declared illegal, President's Counsel Dr. Jayampathi Wickremaratne and J. C. Weliamuna of the Lawyers' Collective said.
Addressing a media conference in Colombo yesterday, Dr. Wickremaratne said that the Executive and Legislature had deliberately ignored the constitutional interpretation by the Supreme Court. The same had happened to the Court of Appeal order quashing the decision of the impeachment report by the members of the Parliamentary Select Committee that probe the charges mentioned in the impeachment motion against Dr. Shirani Bandaranayake, he said.
The appointment of a new Chief Justice in contravention of the determinations of the Supreme Court and the Court of Appeal was therefore illegal, Dr Wickremaratne said.
He said that the Lawyers Collective wanted Shirani Bandaranayake to remain as the Chief Justice, in spite of being unconstitutionally removed and they would not accept another appointee in her place in violation of the provisions of the Constitution.
Dr. Wickremaratne said that every citizen had a fundamental right to go before the Supreme Court against breaching of the Constitution and the Lawyers' Collective would exercise that right and would seek to obtain a Quo warranto writ annulling the appointment of a new Chief Justice.
Courtesy: The Island
Latest Headlines in Sri Lanka