Mosques and loudspeakers : A Global Issue
Posted by Editor on December 18, 2013 - 8:14 am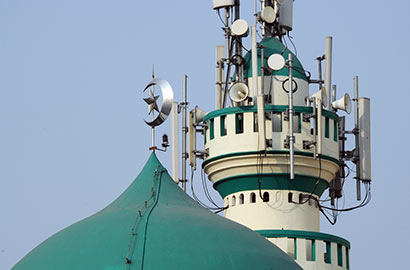 – by Shenali D Waduge –
It is not only in Sri Lanka that the issue of loudspeaker usage by mosques has generated public debate and outrage. In Sri Lanka despite a Supreme Court interim order the loudspeakers from mosques are a regular feature adding to provocation has been its use even on poya days. Even in the citadel of Buddhism, the regular worship in Kandy is disturbed by the loudspeakers of the mosques showing a flagrant example of lack of respect for the predominant religion of Sri Lanka.
The protests against loudspeakers are joined by opposition to establishment of mosques far in excess of requirement globally as well nullifying the oft given impression that only Sri Lanka, the majority populace are creating issues.  Russia has set the ball rolling by declaring that they will be no more mosques and has also clamped down on the Quran. As for loudspeaker usage it is not difficult to realize that whatever opposition coming from different corners of the world those opposing suffer from the same issues in being a captive audience not wanting to hear the mosques loudspeaker but having no choice. The situation has been made worse by corrupt officials and politicians who have given the permission thinking that public office is their public property and it appears this too has become a global issue.
When opposition to loudspeakers first arose in Sri Lanka the noise levels were immediately reduced while some mosques decided to omit usage altogether. When the guards have been lowered it is clear that the loudspeakers have emerged once more. In Sri Lanka's case there is a Supreme Court interim order giving police the right to take action.

USA
In 2004, the Al-Islah Mosque in Hamtramck, Michigan, US, attracted national attention when it requested permission to broadcast its call to prayer. This upset many of the non-Muslim residents of the area, which has a large and long-established Polish Catholic population.
New Yorks troubles with loudspeakers first started when the mosque began fixing powerful loudspeakers onto their mosques and setting them on volumes up to 130 decibels (the noise of a jet engine) that makes them loudly audible for as far as four miles away.
People have begun opposing to the authorities all over the world. In some cases like in Connecticut, USA, non-Muslims moved out of the mosque neighborhood frustrated by traffic jams on Fridays and the loudspeakers and thus the objective of making Bridgeport a Muslim only enclave succeeded by virtual default.
There are cases of mosques in Oxford (England), Brooklyn (New York), and elsewhere being restricted from at least the pre-dawn azaan
Middle East / Africa
The Israeli Prime Minister Netanyahu said "I have received numerous requests from people who are bothered by the noise from the mosques," "The same problem exists in all European countries, and they know how to deal with it. It's legitimate in Belgium; it's legitimate in France. Why isn't it legitimate here? We don't need to be more liberal than Europe."
Dubai Department of Islamic Affairs decided to ban loudspeakers in 5 times daily prayers.
Cairo is said to have 4000 officially recognized mosques that use loudspeakers five times a day and they too have assured noise reduction.
In Saudi Arabia, the Ministry of Islamic Affairs banned small mosques from using loudspeakers for the nightly tarawih prayer in Ramadan. "Raising the sound of loudspeakers above the accepted level is not permissible," said Sheikh Tawfiq al-Sayegh, imam of a mosque in the coastal city of Jeddah, to Okaz daily. "There are ill and elderly people in the neighboring houses who need rest and quietness."
Europe
Britain has some 1600 mosques. Most are small terraced houses, others converted churches and chapels, and a small handful purpose-built. The reaction to a loudspeaker in Oxford UK resulted in the following comments:
Elizabeth Mills, 56, said: "We don't have a problem with the Imam climbing to the top of the minaret and shouting."But we object to electronic amplification. The Bishop of Oxford might say it's ok but he doesn't have to listen to it."
Dr Allan Chapman, 61, who lives near the building, said: "The universal message is what an utter cheek to inflict this on a non-Muslim area of Oxford. If this application goes forward then a large number of angry people are poised to form an opposition to it."The Daily Mail referred to the loudspeaker at mosques as Insensitive and unduly provocative.
In March 2011, a church that had been purchased by the Islamic charity JIMAS to be reopened as a Muslim-run community centre was also subject to an arson attack. The fire left the former-church in smouldering ruins.
In December 2011, Stoke on Trent mosque also suffered an arson attack, in this case, two members of the EDL were later convicted.
In April 2012, Bury Park mosque was subject to an arson attack. Although no culprits were found it was considered clearly deliberate. A mosque only a few miles down the road, Medina Mosque, had also recently been vandalised – in this case windows smashed and EDL graffiti on the walls.
There are 3000 mosques in Germany. A Turkish mosque in the German state of North Rhine-Westphalia has begun sounding public calls to prayer. Observers believe a precedent has now been established. The Fatih Camii Mosque — run by the Turkish-Islamic Union for Islamic Affairs (DITIB), a branch of the Turkish government that controls over 900 mosques in Germany — received municipal approval for a muezzin publicly to call Muslims to the mosque for prayer five times a day after Mayor Michael von Rekowski said he wanted to show the world that Wipperfürth "takes pride in being an intercultural and interreligious community." In Cologne, Germany, new mosque planners have imposed a ban on loudspeakers outside the building.

Asia
In India, the Kerala Samsthana Jamiyathul Ulema, an association of Muslim theologians, has said that there is no need for use of loudspeakers for religious purposes at the mosques and that the Sunni Muslims in Kerala started using the loudspeaker hardly half a century ago.
The general reaction to opposition has been that loudspeakers are an entitlement of freedom of religion though they have no arguments when asked whether loudspeakers existed in ancient times.
In Indonesia, where 800,000 mosques serve the world's largest Muslim population, the calls emanating from low quality and poorly synchronized speakers has become an increasing irritation. Sayed Hasan, 75, filed a lawsuit in the city of Banda Aceh, in which he complained of being disturbed by lengthy recordings of Quranic verses. "I was forced to withdraw my lawsuit as an angry mob threatened to kill me," he said. "But after I dropped my case, the volume was significantly turned down by about half."

Public interest litigation verdicts:
"No religion prescribes performing prayers through amplifiers and the use of microphones and loudspeakers by religious denominations are to be within the limits prescribed under the Environmental Laws and Police Acts," a division bench comprising Chief Justice Manjula Chelloor and Justice K. Vinod Chandran said in their decision on a public interest litigation (PIL) appeal.
The Delhi High Court on Friday directed all mosques and temples in Ekta Vihar and Sunder Nagri in east Delhi to restrict the decibel level of loudspeakers. It said the loudspeakers should be positioned at a restricted height of only eight feet from the ground. The court also directed them to change the direction of the loudspeakers and make them face the wall of buildings, and not outside, to reduce the noise level.
Mosques and loudspeakers have surrounded even the Buddhists holiest site of Buddha Gaya where meditations are disturbed by the noise emanating from the mosques. This is highly uncalled for especially when it is morally incorrect to disturb another religion. Mosques did not exist around Buddha Gaya until very recently which goes to show that surrounding non-Muslim sites has been a purposeful mission.
In Sri Lanka, the Supreme Court made a ruling on 9 November 2007 pertaining to loudspeakers. It viewed the right of one party to use loudspeakers against the annoyance, disturbance and harm caused to other parties who were compelled against their will to listen to the amplified sounds from the loudspeakers.
The Court  considered the right to force public to become captive listeners – violating their right to silence and quiet enjoyment of their property. Even if the police had issued a license for the use of loudspeakers under Section 90 of the Police Ordinance of 1865, the Court held that nobody can claim the fundamental right to create noise using loudspeakers. If people have the right of speech others have the right to listen or decline to listen. Nobody has the right to trespass into the ears and minds of others on the grounds of religious freedom. The Court also held that no religious body is entitled by reason of claimed religious practice to commit a public nuisance. The police permit is not a protection against the creation of public nuisance under Section 261 of the Penal Code. The Sri Lankan Supreme Court also held that there was no requirement in the teachings of any religion to use loudspeakers as rituals. Loudspeakers are a new electrical phenomena – they did not exist during the times the religions were created. The Court also held that harm is done to school children whose studies are being disturbed as well as sick people recovering from illness.  Court held that the noise from loudspeakers produced serious physical and psychological stress.
The last Poya (December) in areas of Dehiwela and Wellawatte the mosque has continued to use loudspeakers the noise reaching far and wide committing an act of provocation and disturbing the O/L students preparing to face their exams.
Why do Muslims need to listen to azan to get ready for prayers? The world is not a desert, it is not a barbaric, illiterate, uncivilized world. It is a modern world. It is 21st century, not 600 something AD. People know the time – everyone has watches, mobile phones, phones, alarm clocks and in Sri Lanka there is a dedicated radio channel for Muslims. Therefore, we question the need for loudspeakers in mosque when there are enough channels to inform Muslims to come to prayer.
Latest Headlines in Sri Lanka