Murali 'never used' computers
Posted by Editor on April 5, 2011 - 8:33 pm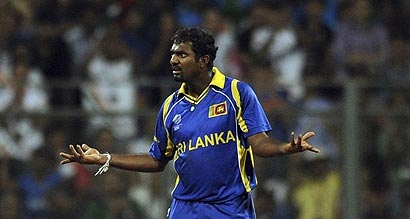 Sri Lanka's great spin bowler, Muttiah Muralitharan, says he has "never touched" a computer and "hates" the thought of it.
Murali was speaking to the BBC at a reception given in honour of the national team by President Mahinda Rajapaksa two days after they lost the ICC Cricket World Cup final to India.
It was Murali's final match for Sri Lanka, and a disappointing one for him as he failed to take any wickets, but the team were in good spirits after receiving a heroes' welcome on returning home on Sunday.
Murali said he has to sit a written test in order to get a work permit for the UK, which he needs in order to play Twenty20 cricket for Gloucestershire this June.
"I am not into computers or studies," he said, grinning.
'No exams since 1988'
He dislikes exams and has not sat one since taking his O-levels at the age of 16 in 1988.
By the time others were sitting their A-levels he was touring as a cricketer.
Reflecting on last Saturday's match, the Kandy-born off-spinner – who took 800 test wickets, the highest ever tally – said that India played "better than us" in the final and there was no point in making excuses.
Referring to his retirement he said "the fans have been wonderful to me, but one day you have to say stop".
Muralitharan said he would play the Twenty20 format at club level for two further years.
On Tuesday night he flies to India to play for Kochi, followed by the Gloucestershire season starting in June and more cricket in Wellington, New Zealand, in December.
Kochi signed him up after his previous club, the Chennai Super Kings, failed to make a high enough bid.
He said he would be loyal to Kochi, where he will be captained by his national team-mate, Mahela Jayawardena.
In the coming years he will be supporting charitable work including the building of a school and sporting facilities in the former war zone in northern Sri Lanka and a country-wide project to provide school equipment to children in the poorest villages.
BBC
Latest Headlines in Sri Lanka