My government policy is to dispel inequality in development process – President
Posted by Editor on January 13, 2016 - 7:51 am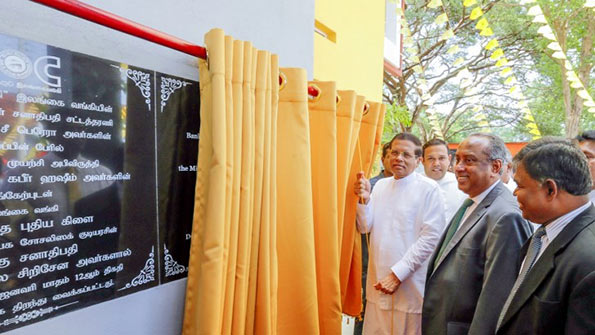 It is not the policy of my government to treat one district more and the other districts less in the country's development process, said President Maithripala Sirisena.
He made these remarks participating in a ceremony to declare open the newly built Bank of Ceylon Welikanda branch, today (12).
The President further said that the special development project titled "Pibidemu Polonnaruwa" (Awakening of Polonnaruwa) implemented to rectify the injustice happened to the people in the Polonnaruwa district in the development process in the past.
He also said that even though some sections of the society expressed their views as there is shortage of subsidized fertilizer in the country, when he personally looked into the matter, the actual situation was that there were some issues with the distribution of fertilizer and he has given instructions to the relevant officials to correct those erroneous situations.
President Maithripala Sirisena said that the government will take every possible step to uplift the farming community through expanding market opportunities and providing water and fertilizer required for them at the correct time.
The President recalled that still there are Rice stocks in the warehouses which are not suitable for human consumption and those stocks were imported by the then government and he said that as a result of these kinds of steps by the previous government the farming community of this country suffered.
Those rice stocks were not sold to the Sathosa and those were sold to the private sector, the President said that adding investigation in this regard is being processed.
President Sirisena said he rejected a proposal presented to the Cabinet for importing of maize and said that he would never allow to take any decision harmful to the economy of the farming community.
The Bank of Ceylon branch opened in Welikanda by expanding the bank facilities to the farming community in Welikanda area is equipped with every facility.
The President, who opened the branch of the bank by unveiling of the plaque, accepted the credit deposit of the first customer of the bank.
Later, distributing school equipments to the students in Polonnaruwa District under the program of "Pibidemu Polonnaruwa" was held with the President's participation. Also, office equipments were delivered to strengthen the farmer organizations while grass cutting machines were distributed to the farmers for the management of the community participation irrigation systems.
Meanwhile, a branch of the Bank of Ceylon in Aralaganwila, which was built to expand the banking facilities of the farming community in the area, was declared open by the President. This will facilitate the people of 30 villages in Aralaganwila area. The President accepted the credit deposits of the first three customers of the bank.
(President's Media)
Latest Headlines in Sri Lanka