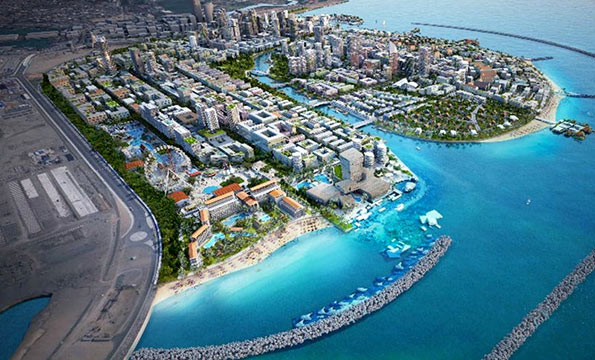 Sri Lanka is to go ahead with a $1.4 billion Chinese-backed real estate project after some changes to its terms, a minister said on Tuesday, signalling readiness to accept more Chinese investment in the face of a balance-of-payment crisis.
President Maithripala Sirisena's new government suspended the project, which includes apartments, shopping malls, a water sports area, a golf course, hotels and marinas next to Colombo's main port, in March last year citing various irregularities including a lack of proper permits and approvals.
"The port city will be started. We will down-size the proposed land. We have to sign the deal again for the better future of the country," Sujeewa Senasinghe, junior international trade minister, told reporters.
He said the irregularities were being addressed in a review of the project.
The new government is trying to speed up procedures for foreign direct investment and liberalising foreign exchange market to attract more dollar inflows to face a balance-of-payments crisis. It is also seeking an IMF loan.
The Sri Lankan company CHEC Port City Colombo (Pvt) Ltd, which is handling the project for Chinese investor, China Communications Construction Co Ltd (CCCC), signed the original deal under the then government of the China-friendly former leader Mahinda Rajapaksa.
The project was initiated by Chinese President Xi Jinping in 2014 and was emblematic of China's strategy of developing a maritime Silk Road from Asia to Europe.
But it has alarmed Sri Lanka's big neighbour, India, which is wary of China's growing influence in the Indian Ocean, especially after visits to Sri Lanka by two Chinese submarines in 2014.
India sees the project as a threat in its backyard and has been sympathetic to Sirisena's reformist rule.
Liang Thow Ming, chief sales and marketing officer of CHEC Port City Colombo confirmed that discussions were going on with the government to get the project back on track.
"We're both keen to come to a resolution," he told Reuters.
The Sri Lankan government said in September it would be exposed to the risk of claims from the Chinese investor if the government failed to obtain approvals needed by the project within two months.
CCCC had estimated when the project was suspended in March that the shutdown would result in losses of more than $380,000 a day.
The project plot is a fenced-off tract of boulders dumped by what used to be a sandy beach.
Environmentalists and fishermen have opposed the project, saying it would damage the environment.
(Reuters)