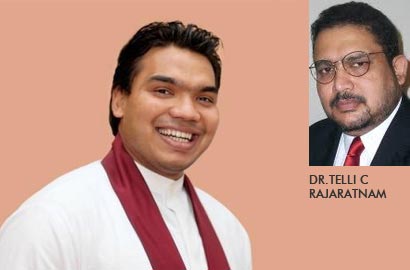 – By Dr. Telli C rajaratnam –
Day and Night a young man went from district to district, day by day across the miles with knapsack on his back with literature about the President of this country. He stopped at every corner touched the hearts of those around him with his polite speeches which he expressed with dignity and decorum. He had the aristocratic mannerism, gentle disposition and incomparable courage to fulfill his task. He went on alone with a small team and through the miles tens, hundreds and thousands joined him in the arduous task of campaign. They called themselves "Tharunyanta Hetak". They left no stone unturned. This young man had a determination to work for the President for the only reason that he had the energy of a patriot, secondly he is the eldest son of President Mahinda Rajapaksa- Namal Rajapaksa.
Political success
Namal Rajapaksa won the highest majority of votes in the country than any other member of Parliament. His credentials are far mightier than any cabinet Minister. His credentials at his age now is far greater than any Sri Lankan politician. Suffice it to say, that all alone with his team in Tharunyanta Hetak he was the most effective campaigner for President Mahinda Rajapaksa .
Authority for Development & Efficiency
It is time that the political culture of this country changes. Namal Rajapaksa  should be the Cabinet Minister for Youth Affairs, Sports and  International Relations. He has a proven track record and is very popular amongst the opposition members of Parliament for his discreet mannerisms, patience to listen to grievances and effective administration and ethnic harmony. He should hold a key position in the Government. His style is unique and incomparable. If Sri Lanka has to develop at a rapid pace then Namal Rajapaksa should have the controlling authority. The limping politicians should step back and pave way for the most brilliant leader of our times.
Political Tradition
Part of the problem lies in an excessively hierarchical political tradition that treats a supine loyalty as the ultimate virtue. But when patronage is elevated to an organizing principle, dynamism and innovation are the likely casualties. Unsurprisingly, in this environment, there is a latent hostility to newcomers.
Very few political grandees have had the grace and dignity to withdraw voluntarily to the backbenches once their prime is over. Retirement does not feature in their political lexicon. Most of them are afflicted by a severe case of the Duracell syndrome: like the well-known battery they firmly believe in going on and on. While this approach might suit an individual's self-interest it is open to doubt whether this serves the wider national interest.
Seasoned Voice & Dynamic Speaker
No government can survive without an effective voice. Why is Namal Rajapaksa deprived of a Cabinet portfolio which he deserves and has earned by his own work? The Nation gave him the highest number of votes. The Nation wants him. This is the time that the Nation can gain more from Namal Rajapaksa's effective thinking and excellent organization. President Rajapaksa has a duty by the Nation to appoint Namal Rajapaksa forthwith as a Cabinet portfolio
Namal Rajapaksa Doctrine
Sri Lanka's electoral make-up will change with Namal Rajapaksa as a new Cabinet Minister- the absence of young politicians on the front benches is simply incredible. Namal Rajapaksa should be in the front bench of Parliament. Ex militant Tamil hooligans in Parliament should be sent to the last row if those patronizing them want them-these shameless Tamil hooligans have contributed nothing in Parliament except brought discredit to the Government. Unlike the private sector which has evolved considerably, the political culture shows little sign of embracing a necessary change. With the entry into the Cabinet, Namal Rajapaksa will with one sweep change the entire political culture into an effective and energetic political climate. This is the doctrine of Namal Rajapaksa.
Namal Rajapaksa's entry into Parliament has created an effective Parliament; his entry into the Cabinet would produce an efficient government devoid of conflict.